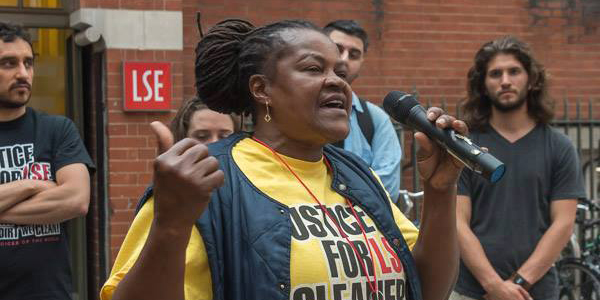 09.04.2021 / News /
UVW is HIRING: ORGANISER 
This role is funded by Black Lives Matter UK. On giving the grant, BLMUK said the following: "we see this as another chapter in what we hope will be an ongoing partnership between our organisations, in the journey toward black freedom."
Job title: Organiser
Contract type: permanent and full time (40 hours per week)
Pay and other T&Cs: In UVW all staff regardless of job type or length of service receive the same flat rate which is currently £11.90 per hour.
We also offer full and equal maternity and paternity pay, full pay sick pay & 6 weeks annual leave.
Deadline for applications: Interested applicants should send their CV and cover letter (no more than 2 pages) both in pdf format to recruitment@uvwunion.org.uk by no later than 5pm on 10th May 2021.
Interview dates: Between 17th-28th May 
Job start date: 19th June 2021
About UVW: UVW's mission is to build power and solidarity amongst low paid, precarious, migrant or otherwise marginalised workers in the UK through collective, legal and direct action.
About the role: We are looking for an organiser to help achieve UVW's mission performing a wide range of duties as assigned by UVW, including, but not limited to the following:
(Examples provide a general summary of the work required and should not be treated as a total and complete list of expected duties to be performed)
PRIMARY RESPONSIBILITIES:
-Design and implement major organising campaigns or multiple smaller campaigns.
-Work with other staff and members to coordinate all aspects of campaigns including vision, strategy, timeline, communication, community outreach, finance and resource considerations.
-Identify and develop leaders, mobilise members and the community around campaigns to pressure employers.
-Help workers understand how power relationships – particularly the intersection between race, migrant and class – work and how workers can/should use that knowledge.
-Communicate with workers including listening, framing issues and motivating them to participate actively.
-Develop and implement training for worker leaders on the campaign to further develop skills and understanding of the campaign.
-Visit work sites on a regular basis covering all shifts.
-Organise protests, strikes and other direct actions and help workers win recognition for the purposes of collective bargaining where possible.
-Build relationships with relevant people/groups/organisations outside UVW.
-Assist UVW Sector Groups in their organising drives and the development of an organising program.
-Assist members in negotiations tied to organising campaigns.
-Support other staff organisers, attend and participate in staff meetings, complete all required administrative tasks (e.g. activity forms) in a timely manner & maintain accurate record keeping.
-Provide BLMUK with a final narrative report ("Narrative Report") etc.) of your activities in the role, and if requested, periodic reports on progress to BLMUK.
-Perform other duties as required to assist the UVW.
PERSONAL AND PROFESSIONAL SKILLS REQUIRED:
-Experience as an community or trade union organiser or demonstrated ability to carry out the responsibilities of the job
-Excellent interpersonal skills as demonstrated by the ability to relate, establish and cultivate respectful relationships with people from diverse backgrounds
-Committed to learning about motivating workers in struggles
-Personal commitment to the mission and goals of UVW and to the struggle for economic, social, and racial justice
-Skilled at managing and meeting many and varying deadlines
-Effective demonstrable oral, written and listening skills in English; bilingual skills in Spanish and English highly desirable
-Excellent analytical and judgment skills as demonstrable by the ability to assess information and evidence and act strategically
-Excellent organisational and prioritising skills showing flexibility as needed; adept at dealing with conflicting/changing priorities
-Effective facilitating and organising meeting skills
-Ability to work and organise independently and as part of a team
-Working knowledge of computer programs including Word, Excel, e-mail, accessing the internet, and databases
-The ability to exercise discretion and independent judgment
-Excellent, proven communication skills.
-Willingness to work long and varying hours including weekends & nights as and when required.