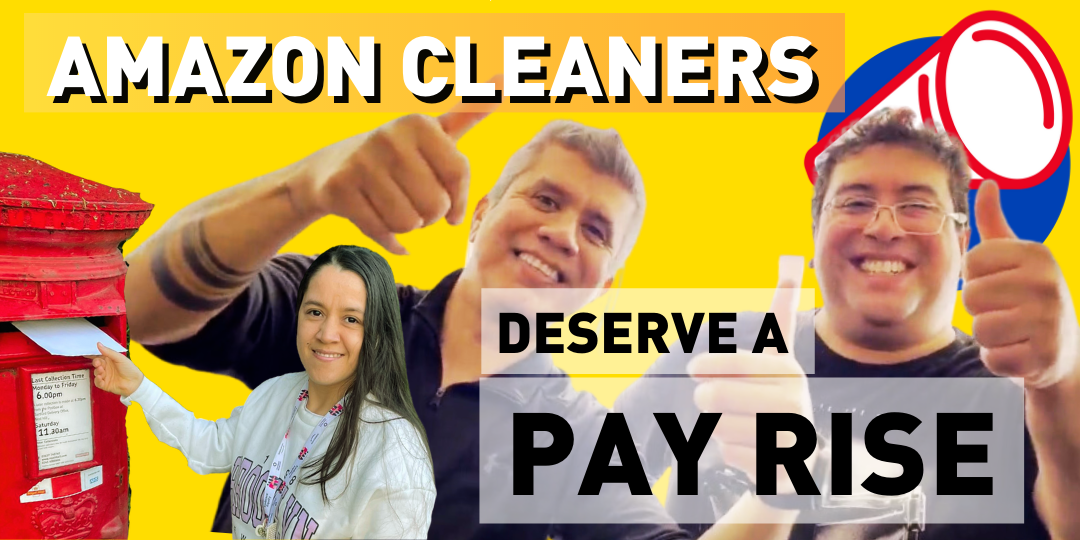 "We don't have to tolerate or allow any kind of bullying, any kind of exploitation or any kind of 'modern day slavery'."

José Francisco, Amazon cleaner and UVW member
Latin American workers that clean the warehouses of billionaire global giant Amazon in Dartford say no to poverty pay.
The cleaners, UVW members, are paid less than warehouse operatives and not a penny more than the absolute minimum legal wage of previously £9.50 and recently as of 1st April 2023 £10.42 per hour. This is despite working overnight at greater risk to their health and to the detriment of their family lives whilst living in one of the most expensive cities in the world.
That's why the Amazon warehouse cleaners are demanding 25% increase in their pay, which brings them up to the recommended minimum yet modest London Living wage (LLW). Other demands include a fairer distribution of hours and workloads as well as dignity and respect at work.
In May, the brave workers forced their employer to negotiate a voluntary recognition deal with their union, UVW. The migrant workers will be the first cleaners on any Amazon site to win union recognition in the UK!
In 2021 Amazon had a turnover of £372 billion and Phosters' parent company, a turnover of £56 million, with a profit of £156 billion and £2.7 million, respectively. Companies like Amazon make billions and use companies like Phosters to avoid giving cleaners the already meagre terms and conditions as their in-house workers. Amazon shareholders and Phosters directors – whose pay increased by 55% in 2021 – all benefit financially from this arrangement while the cleaners who keep their lucrative operations running 24/7 struggle to get by on poverty wages.
The workers work at DBR1 Amazon warehouse in Dartford, in the outskirts of London and are outsourced to Phosters (FM) Limited, a Worcestershire-based facilities management company.
Join the coordinated strike action group to find out about planned strike dates and actions >>
---
THE WORKERS DEMAND:

An hourly wage of no less than £11.95
Dignity and respect at work