THE DISPUTE
In 2019, cleaners who have maintained the Royal Parks (including St. James's, Regent's, Hyde Parks) for nearly 200 years between them — one has been on the job for 24 years — joined UVW and voted for strike action. They were being paid a poverty wage of £8.21 per hour, with insufficient sick pay, and lacking full holiday entitlements.
Cleaners at the Royal Parks are outsourced to VINCI, a multinational French firm contracted to maintain the 5,000-acre Royal Parks in London, and employing some 50 attendants — almost all migrant part-time workers.
A group of mainly Ghanian and Nigerian attendants were the first to join UVW, complaining of poverty wages, lack of holiday entitlements and a general culture of disrespect towards the outsourced staff.
They voted for strike action in August 2019. The first strike day was October 24th and consisted of a joint strike with University of Greenwich café workers. The second strike day was October 31st, a UVW Halloween of 6 joint strikes with the café workers, St. Mary's cleaners, caterers and porters, cleaners at 200 Gray's Inn Road, security guards at St George's University and cleaners at the Ministry of Justice.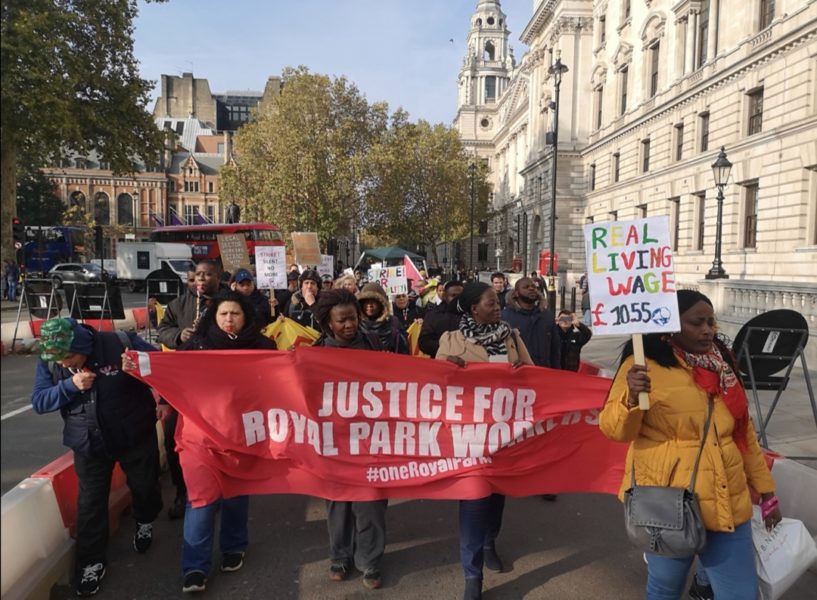 Soon after threatening more strike action in early December, the board of the Royal Parks charity agreed to increase all VINCI-employed workers wages from £8.21 to the London Living Wage of £10.75, backdated to November 1st. This meant a 31% pay rise, giving some of the workers the means to visit their home countries for the first time in many years.
Since they have won LLW, the Royal Parks members have continued to fight for equality with in-house staff. In April 2020, UVW filed a landmark legal challenge accusing the Royal Parks of indirect race discrimination. The challenge contends that UVW members – who are outsourced and overwhelmingly black African migrants – being on minimum terms and conditions, while the 90 percent white in-house staff are given generous conditions and benefits, amounts to indirect racial discrimination under the Equalities Act.
The legal challenge affects 3.3 million outsourced workers across the UK, where the aim is to show that the effects of outsourcing – irrespective of the conscious intentions of the Royal Parks – results in workers with protected characteristics being subject to a double standard of treatment with respect to minimum levels of contractual benefits. So watch this space, because their fight is not yet over!
---