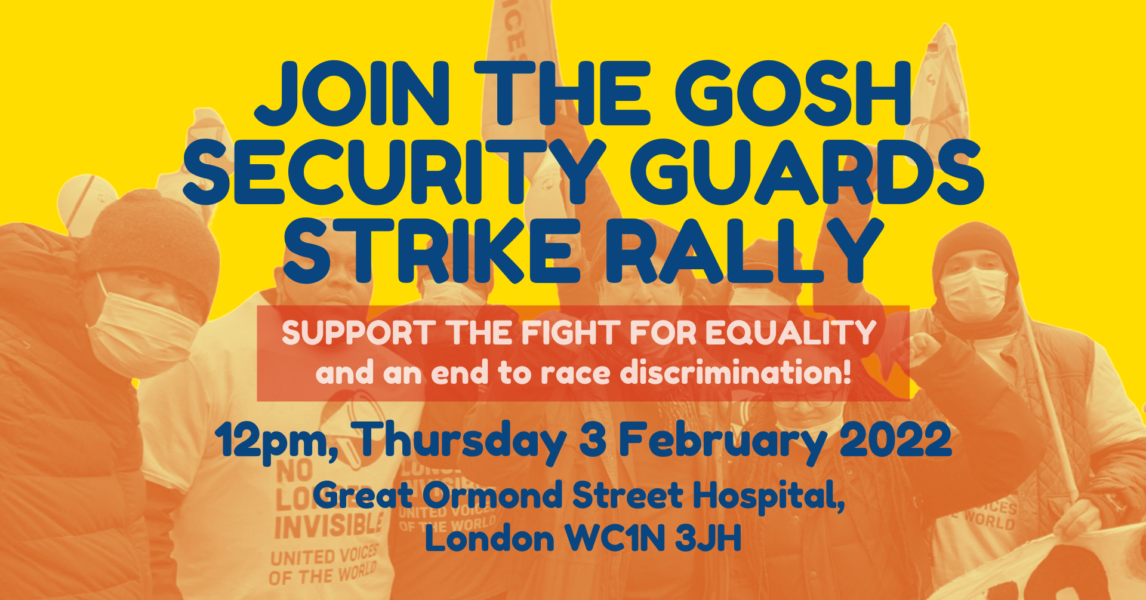 JOIN THE RALLY: SUPPORT GOSH SECURITY GUARDS' STRIKE FOR EQUALITY!
Thursday 3 February
2022, 12pm
Security guards at Great Ormond Street Hospital (GOSH) are going on a six-week strike for eqality and against race discrimination. They need your support.
The predominantly Black, brown and migrant workers are outsourced and on poorer terms and conditions than the largely white workers who are employed in-house. Denying them equality and full rights is nothing short of racial discrimination. They ask for basic things like full sick pay, annual leave, overtime pay, which they don't currently have.
GOSH security guards are extremely proud to be key workers. During the pandemic they have risked their lives to take care of patients and staff but they have been denied the same recognition and rewards as their NHS colleagues.
Striking is a last resort for these workers as GOSH and their contractor refuse to negotiate.
We need to stand with them as they take action. ✊🏾
Support the GOSH workers struggle for equality, join the rally on 3 February.

12pm, Thursday 3 February
Great Ormond Street, London WC1N 3JH