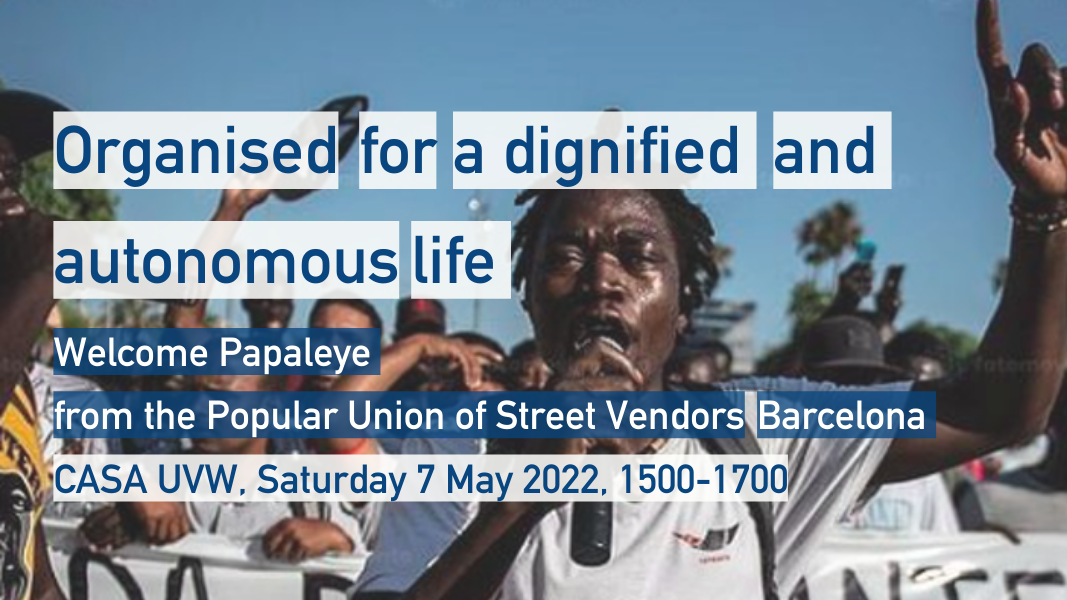 For a dignified and autonomous life
SATURDAY 7 MAY

, 15.00pm

UVW will welcome Abdoulaye Seck, aka Papalaye a member of the 'Sindicato Mantero' Barcelona to Casa UVW, this Saturday 7 May.

The Popular Union of Street Vendors or 'Sindicato Mantero' ('Sindicato Popular de Vendedores Ambulantes' or 'Manteros Union') is a grass-roots union of mainly undocumented Senegalese workers doing criminalised and precarious work as street-vendors in Spain. The Barcelona branch of the 'Sindicato Mantero' was formed in 2015 when Mor Sylla, an undocumented street vendor from Senegal, fell from a balcony to his death during a police raid of his home. For the street-vendor community facing police violence, raids and persecution on a daily basis, this tragic event became the catalyst for collective resistance.

Workers formed the 'Sindicato Mantero' in Barcelona to organise against police violence, fight laws criminalising their survival, and upend racist narratives in the Spanish media. In 2019, the union also formed a workers co-operative and brand – Top Manta – of "legal clothing made by illegal people". Their co-operative is a community strategy for autonomy and a dignified life: enabling members to leave street-selling work. It is also a strategy for regularising members' immigration status, with more than 120 people having been able to regularise their situation to date.
Papalaye will share his experiences and the various strategies that the 'Sindicato Mantero' in Barcelona have used in their ongoing struggle against precarious, illegalised working conditions and border violence in Spain. At a time when the UK government is pushing through legislation that will hand greater powers to agents of state violence such as the police and border forces, it has never been more important to strengthen the internationalism of our resistance, by building links with comrades who are part of the same struggle such as the 'Sindicato Mantero'.
Join us!
📅 Saturday 7 May – 15.00 – 17.00
📍UVW House
We are a community union, bring your family, your children, your dependents and some food to share.

FInd out more here: