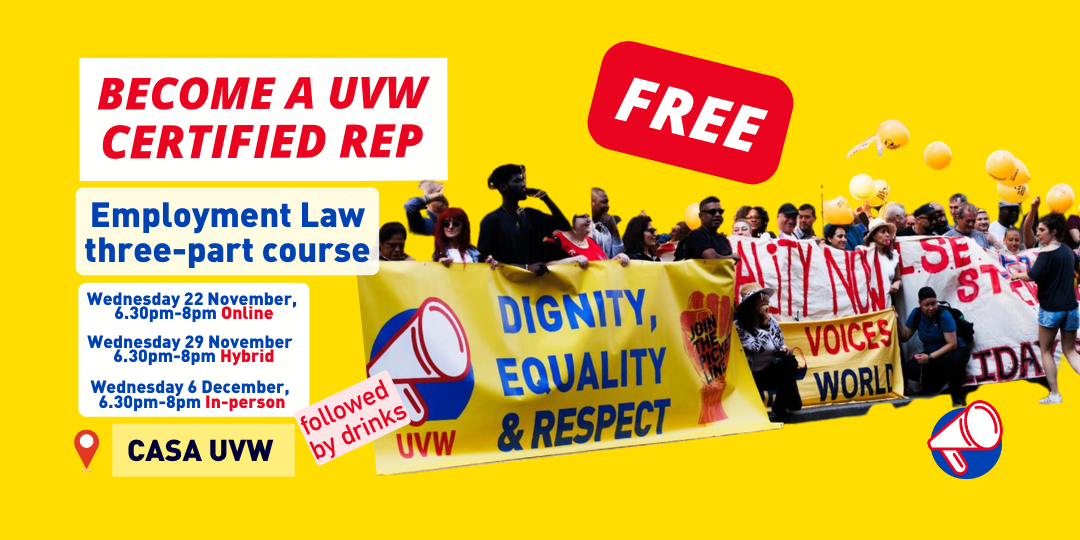 FREE THREE-PART CERTIFIED REP TRAINING
NOVEMBER 22 & 29

, DECEMBER 6

BECOME A UVW CERTIFIED REP WITH OUR NEW, FREE THREE-PART COURSE FOR UVW MEMBERS!

In UVW we have years of experience in handling 10,000s of cases and winning dozens of campaigns and we want to share this knowledge with as many of you as possible. 🔥 We also want to learn from you!

In this three-part intro to repping course, you will:
Learn the tricks and tools you need to fight for your rights and hold you boss to account 👊🏽
Gain the knowledge and confidence you need to either build the union in your own workplace or support other workers to do that 🔥
Become a certificated rep if you attend all three sessions 👩🏽‍🎓
Put these dates and times in your diary! 👇🏽
🗓️ Wednesday 22 November ⏰ 6.30pm-8pm 💻 Online – Intro session
🗓️ Wednesday 29 November. ⏰ 6.30pm-8pm 💻 🧑🏿‍🤝‍🧑🏻 Hybrid
🗓️ Wednesday 6 December ⏰ 6.30pm-8pm 🧑🏿‍🤝‍🧑🏻.🍻 In-person, followed by drinks
The course is open to all UVW members and in-person sessions will be at 🏠 CASA UVW 144 Cambridge Heath Rd Bethnal Green E1 5QJ.
We hope to see you all there!