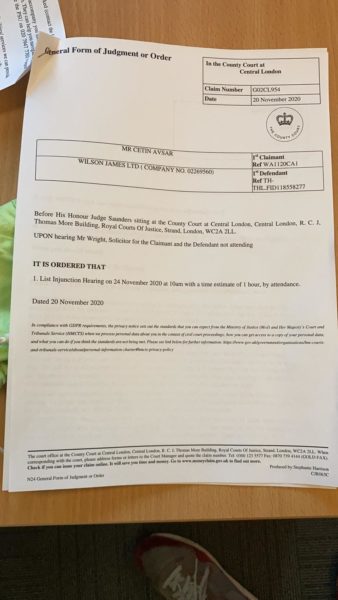 23.11.2020 / News / Press releases /
Security guard seeks 'groundbreaking' injunction to stop his 'unlawful' sacking in what his union UVW describes as the first case of its kind for a low paid worker
On Tuesday 24th November in an injunction hearing will be heard in London to determine whether security contractor Wilson James should be forced to lift the suspension of their employee Cetin Avsar and be compelled at risk of contempt of court not to dismiss him. 
Wilson James has suspended and threatened to dismiss Cetin explicitly for his beliefs that outsourcing is discriminatory, and for his having lead a strike against outsourcing at his former job at St George's University 
His union United Voices of the World says an injunction hearing for a low paid worker like Cetin is unprecedented as injunctions are normally only applied for and granted in cases of doctors or directors.
A security guard at the Francis Crick Institute in London is set to face off against his employer Wilson James in an injunction hearing in what his trade union, United Voices of the World (UVW), has described as an "unprecedented legal showdown".
On 11th November after only 3 weeks in his new job Cetin Avsar, the security guard from Turkey bringing the legal action, received a letter inviting him to a probationary review hearing stating "[his] conduct has not reached the required standards" citing only his membership of his trade union, his previously having participated in a strike and his views, shard by his union, that outsourcing is 'discriminatory'. The letter warned him that he might be dismissed after the hearing.
The full grounds for calling the probation hearing taken verbatim from the letter are as follows:
In you (sic) most recent employment with Noonans (sic) where you were employed as a Security Officer for about 2.5yrs at St. George's University, you were leading a campaign to be taken in-house and given the same terms as all in house employees. The union you have joined and who have supported you in your campaign are United Voices of the World (UVW), who in their words 'believe that outsourcing is antiquated and discriminatory'. You planned a 13-day strike action earlier in the year to protest on the above. Wilson James are also a contractor, which fundamentally means that there is a conflict of interest between your opinion and work with the union which lead to your protesting, and your employment with Wilson James".
In response UVW requested that Wilson James cease all proceedings against Mr Avsar on the grounds that the proceedings and any subsequent dismissal would be a violation of Mr Avsar's human rights as set out in Articles 9, 10 and 11 of the European Convention on Human Rights, transposed into the UK''s Human Rights Act 1998, as well as a breach of UK trade union law found in the Trade Union and Labour Relations (Consolidation) Act 1992 which prohibits employers from punishing their employees for being members of a union or participating in union activities.
Despite UVW's representations Wilson James proceeded to suspend Mr Avsar on the 13th of November and refused to cease the disciplinary proceedings. With the threat of dismissal looming and with Mr Avsar facing unemployment in the middle of a pandemic with a dependent disabled son to care for, Mr Avsar applied for an injunction to protect his job.
The hearing will take place in the Central London County Court on the 24th of November 2020 at 10am.
Speaking on the significance of the case, Petros Elia, UVW Co-Founder and Lead Organiser, said the following: "This is one of the most brazen and egregious breaches of a worker's rights I've come across. Union busting employers will usually do their union buting on a pretext. Wilson James is doing it openly. If our laws can't stop employers from openly trampling on the human rights of workers in the UK then our legal regime is not fit for purpose and our so-called rights are nothing more than aspirations. Injunctions preventing dismissals are usually only granted to high end earners and it's about time one was granted to a low paid worker too in recognition of the fact that they may have less to lose than high end earners, but they also have less to fall back if they lose the little they have".
He then went on to say, "The importance of the outcome of this case can not be overstated. Victory will not only protect Cetin but also send a clear message to Wilson James and all union busting employers who think compliance with the law is optional, that they will now no longer only have to pay the totally inadequate compensation awards imposed by employment tribunal claims after they trample on the rights of their workers, but will now also be prevented from trampling on the rights of their workers in the first place." 
Speaking before the case Mr Avsar also said the following: "No one should be treated like this; I'm not going to stand being treated in this way. I want justice, and not just for me, but for all workers. Companies like Wilson James shouldn't be able to just walk over working-class people like me with there being no consequence. I just want them to realise that what they're doing is not acceptable at all. Throughout my entire career, I've never experienced anything like this, it has caused me so much stress. No one should be treated like this and I'm not going to let them get away with it".
####
Editors notes
For more information, quotes and evidence please contact:
Kane Shaw, Press Officer, tel. 07950 927798 email. kane@uvwunion.org.uk
Petros Elia, Lead Organiser and Caseworker, tel. 07884 553443 email. petros@uvwunion.org.uk