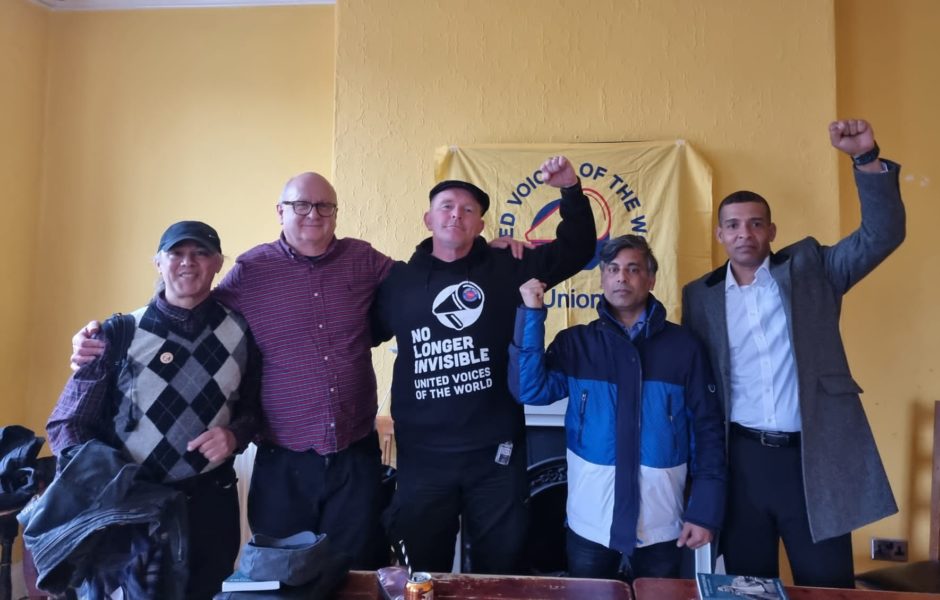 22.04.2022 / News /
Security guards take their fight to Liverpool to rally activists' support  
Activists in Liverpool rally behind the striking Great Ormond Street Hospital (GOSH) security guards at a meeting hosted by Liverpool TUC and Merseyside BLM Alliance.
On Sunday 10th April, the courageous guards visited the northern city to address fellow trade unionists as well as other United Voices of the World (UVW) members from across the region who gathered to express their solidarity and outrage.
Security guards Peter, Jahirul and Alex told activists about their over 50-day strike against racist outsourcing, which is turning into the longest security guard industrial in NHS history. The predominantly Black, brown and migrant security guards are the only workers at the well-known hospital who do not receive full NHS sick-pay.
Striker and UVW member Alex said: "All we really want is our contracts with NHS rules and regulations, so we get sick pay and our staff when they get pregnant, they get maternity (cover)… Because the NHS should not be outsourced at all. No "key worker" should be outsourced. We should all be in-house and we should get a fair rate of pay, be treated fairly; everyone should get treated fairly".
After an epic, continuous six-week strike in February and March, the guards have continued striking every Friday in April as the hospital's wealthy trustees continued to ignore their demands.
Since launching their campaign for the same terms and conditions as other NHS workers, the GOSH security guards have been forced into strike action, then subjected to union-busting, vile racist slurs and even an injunction to try and silence them.
The guards have been indefatigable in their efforts to make their fight for equality, dignity and justice known up and down the country; they have spoken at every picket in London and beyond, at union meetings, Labour party branches, NHS rallies; they are talking to MPs, union leaders, NHS activists. They won't be stopped and will keep fighting.
Next strike rally is on Friday 29 April. Come and join the fight for equality in the NHS!

📅 Friday 29 April – 12.00pm
📍 North end of Queen Square, London WC1N 3AU