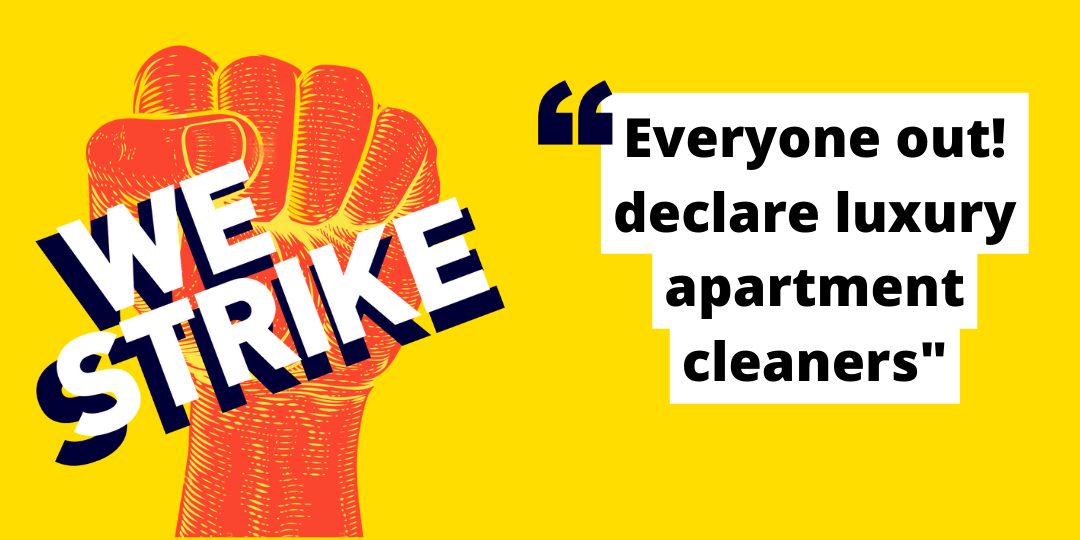 BREAKING NEWS: 'Everyone out!' declare luxury apartment cleaners
The cleaners at Riverside Quarter luxury apartments in Wandsworth have voted to strike. 100% of UVW members voted to take industrial action over their bosses' failure to provide them with decent terms and conditions.
The strike ballot results follow the news on Friday 10 June from the Central Arbitration Committee (CAC) panel accepting their statutory recognition claim. On the eve of the ballot results, the cleaners bosses, Endersham Ltd, confirmed they were already in talks with clients about a pay rise – UVW awaits news.
Ernesto Suarez Velarde, cleaning supervisor and UVW member from Bolivia, commented on the strike ballot results and said: "This is another step forward, another point in our favour, another battle we have won to be able to strike. It is very important, in any group in any country of the world, to be united so that we get what we want. We are defending our rights, because the truth is we need our wages to be increased, it is very difficult now with the inflation that is affecting workers not only in this country but all over the world."
A UVW spokesperson said: "Forcing your boss to sit down and negotiate with you is a good thing. But having the power to stand up and walk out, is the goal. That's why our members at Riverside not only went for recognition and won in the CAC, but they also voted YES to strike."
They continued, "Our members are undeterred and will continue until they receive a proper living wage."
The workers' message, delivered by strike leader Ernesto, to Endersham Ltd is loud and clear "We call on our bosses to put their hands on their hearts, above all for the prestige of the company, and come to an agreement with us and the union. Our requests are not made on a whim and they are not malicious. We are asking for something we really need."
He continued "Together, now more than ever, we are going to continue fighting. We are ready to strike, we are united."
The Latin American cleaners are demanding a minimum of £12 per hour, paid hourly break, a sick pay scheme and 25 days annual leave plus bank holidays.
Watch this space for strike dates and more on how to support the Riverside Quarter cleaners >>