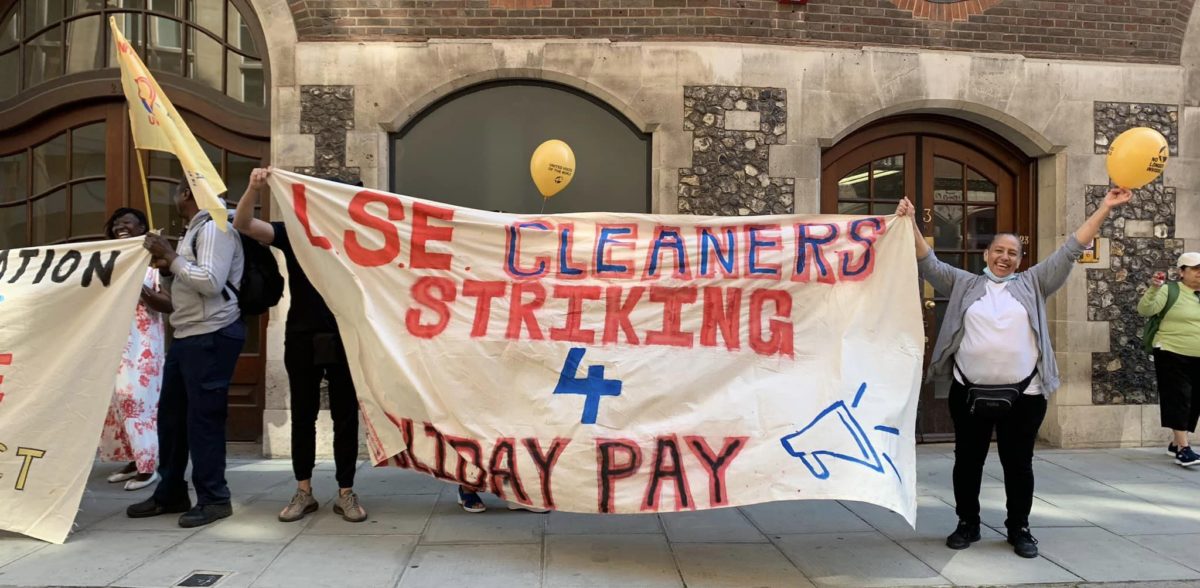 "Pay us our holiday pay" LSE cleaners take bosses to the Employment Tribunal 
"We took strike action to fight for what we are owed and now we are taking legal action. We won't stop fighting."

Vilma Villamoros, LSE cleaner of 11 years and UVW member
This week 20 cleaners at the London School of Economics (LSE) launched a legal claim that could amount to thousands of pounds owed over several years following the underpayment of their holiday pay.

The cleaners, members of United Voices of the World union (UVW), who work at the LSE Halls of Residence have only been paid holiday pay based on what is considered to be their "basic salary", instead of taking into consideration the extra hours that constitute the lion's share of their weekly income.
On 2 June 2023, in response to the cleaners' demands via UVW for holiday pay that mirrors their normal salary, LSE bosses admitted that there had been no accounting for remuneration in respect of "overtime" or "additional hours" when calculating holiday pay by stating that policies will "additionally cover the agreement to pay all staff who work regular overtime an additional overtime related holiday payment for not being able to claim overtime during periods of statutory annual leave. Staff will receive the additional overtime related holiday pay on all non-contracted overtime payments."

Following LSE's failure to commit to paying the outstanding monies owed from the start of the cleaners' contracts, the cleaners – who six years ago in June 2017 won a historic fight to end outsourcing and be brought in house – had no choice but to take three days of coordinated strike action in June alongside other low-paid migrant cleaners, carers and concierge.
Vilma Villamoros, LSE cleaner of 11 years and UVW member said "It is very sad that we have to fight so hard to expose those at LSE who talk so much about ethics. We took strike action to fight for what we are owed and now we are taking legal action. We won't stop fighting, LSE think they can ignore us, but we are the ones who clean the 4,000 places that are offered to international and UK students across several central London locations. We are not the dirt we clean."
Molly de Dios Fisher, UVW organiser supporting the cleaners said:  "LSE is a world renowned institution that boasts associations with Nobel Prize winners and counts 37 past or present world leaders among its alumni.  It is unjustifiable that they are refusing to pay their cleaners the holiday pay that they are legally entitled to".