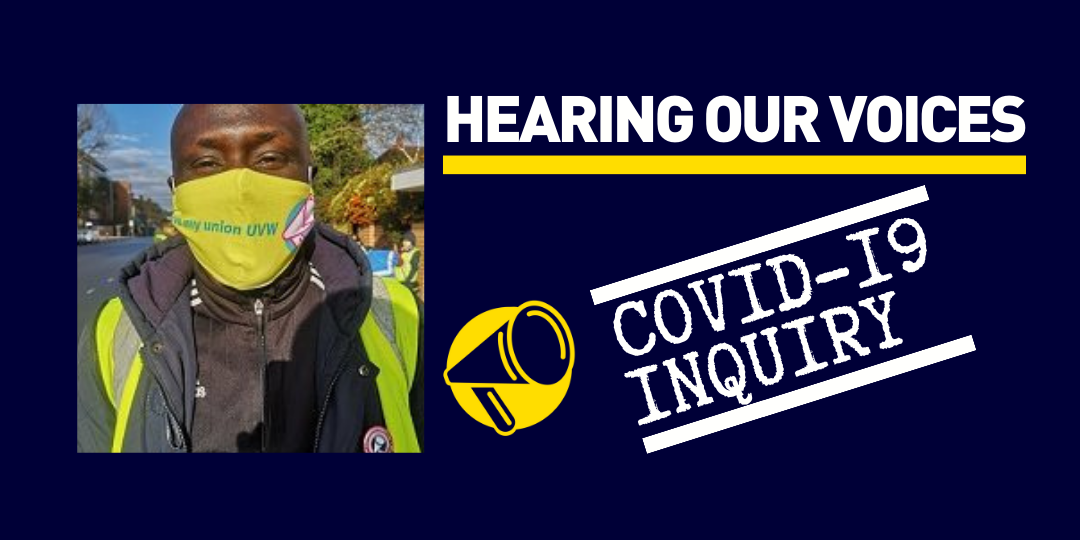 Covid-19: Hearing our voices
"It was a strange feeling to share my story. It was simply emotional and at times upsetting to know that only now someone somewhere wants to know about what we have been through to save lives."

Bile, UVW member and carer at Sage Nursing home
The first hearing of the Covid-19 Inquiry took place this week with submissions from UVW members, cleaners, security guards, caterers and porters in the NHS and carers.
You can watch it here – Diya Sen Gupta KC our barrister speaks from 4.13.15

The Inquiry was established on 28 June 2022 to examine the UK's response to, and the impact of, the Covid-19 pandemic, and to learn lessons for the future. UVW was denied core participant status initially, however a successful appeal means that migrant workers' voices are now being heard.
Bile, UVW member and carer at Sage Nursing home said "It was a strange feeling to share my story, it was simply emotional and at times upsetting to know that only now someone somewhere wants to know about what we have been through to save lives."
UVW members, alongside members from IWGB and the community organisations that make up Kanlugan have shared their stories and experiences to hold the government to account. The voices of all three organisations representing outsourced and sub-contracted, key workers without the contractual protections of NHS-employed staff, are included in Module 9 of the Inquiry which focuses on health care systems and the impact on frontline workers.
"It is important that United Voices of the World is participating, as a union fighting and supporting the cause of precarious working peoples conditions, bringing a change to the way we are seen and most of all demanding dignity and respect for us workers " said Bile.
The key systemic issues raised at this weeks' preliminary hearing covered chronic underfunding of the NHS, outsourcing and the impact of privatisation, hostile immigration environment policies, inadequate sick pay provisions and structural racism.
Bile ended with "I hope that that Inquiry helps to create a National Care Service like the NHS so that we, care workers, are recognised as playing an important role in peoples' lives."
Our members' voices are being amplified with the support of comrades at the Public Interest Law Centre, and our barristers Piers Marquis and Diya Sen Gupta KC.