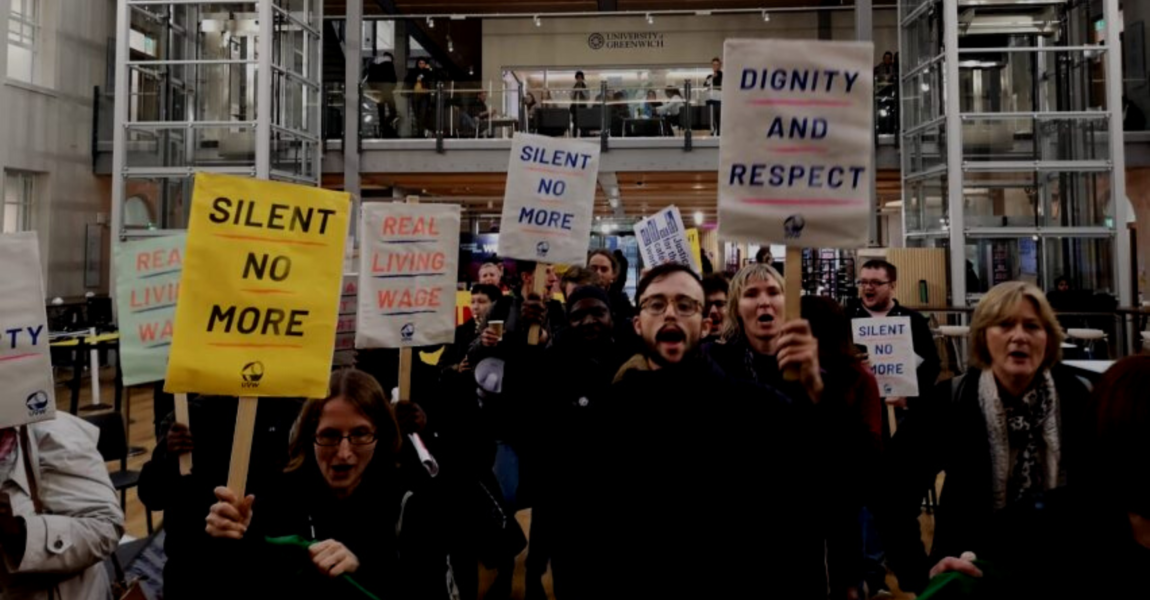 UVW RESPONSE & DEMANDS OF BOSSES AND GOVERNMENT
The COVID-19 Coronavirus pandemic threatens the lives and livelihoods of millions of people. As predominantly frontline workers in low paid service sector jobs that cannot be performed remotely UVW's members are amongst those most at risk of the health and financial consequences of COVID-19.
UVW is extremely concerned that neither employers nor the government has offered UVW's members, and millions of other workers in their position, any genuine financial support in the almost inevitable event that they will face financial ruin either through forced or self imposed isolation, caring responsibilities or through business downturns or closures.
Outside of the service and hospitality sector, UVW's members working as architectural workers are scared to ask for sick leave, legal sector workers are not being offered the opportunity to work from home, and cultural workers are watching their freelance contracts disappear. Meanwhile sex workers are losing clients, and workers in the Violence Against Women and Girls and Gender Based Violence charity sector are worried about sending women home to self-isolate with their abusers.
UVW thinks employers and governments' response to the terrifying reality faced by millions is scandalous, and now a question of public safety.
So far, the government has only mandated that employers provide workers with Statutory Sick Pay (SSP) payments on day one of sickness rather than day four. At £18.85 a day, SSP does not provide workers with a genuine choice to take sick leave. No one can make ends meet on less than £19 a day and the additional £56.55 being offered by starting SSP payments from day one of isolation is negligible.
To make matters worse, only workers who have been advised to self-isolate because of COVID-19 will be eligible for the additional three days of SSP. And they must be eligible for SSP in the first place, meaning they must earn an average gross weekly amount of at least £118. This excludes millions of low paid, part time and self employed workers, whether they are legitimately or falsely classified as such, from receiving even this measly assistance.
UVW has always campaigned to ensure employers move away from SSP and provide workers – regardless of the type of work, contract type or length of service – with an occupational sick pay scheme ("OSP") which guarantees full/normal pay from day one of absence due to illness or injury. Despite the numerous strikes of our members managing to force some employers to move from SSP to OSP, most employers have tried to dismiss the demand as being unreasonable and out of keeping with industry norms.
In the midst of a pandemic, we can no longer accept such flippant disregard for workers' health and well-being. Workers must no longer be constrained to choosing between working while ill or staying home and putting their financial security in jeopardy.
That's why UVW is making the following demands on government and employers to protect our members physical, psychological and financial well-being throughout the course of this pandemic and beyond.
FROM EMPLOYERS WE DEMAND
That no members of UVW, including any agency workers on long term placement, suffer any financial detriment through any reduction or loss of work regardless of contract type, length of service or visa status, resulting from COVID-19 be it due to self isolation, advised or voluntary, or business closure or downturn.

That any period of absence due to illness related to COVID-19 will not trigger the company's Sickness Absence Policy.

That all workers are offered a permanent Occupational Sick Pay moving forward scheme which guarantees full pay from day one of any absence due to illness or injury.

That any redundancy consultation processes planned or currently underway are shelved.

That UVW is consulted in advance of any proposed changes, including closures or reductions in workloads or working numbers as a consequence of COVID-19.

That risk assessments be carried out with the involvement of all staff to determine what can be reduced, delayed or ceased entirely in order to minimise the risk of contraction of COVID-19.

That any disciplinary hearings that do not relate to physical or psychological discrimination or harassment be postponed. And that grievance or appeal hearings be postponed indefinitely if requested by the worker.

That any workers who are able to work remotely are offered the opportunity to do so.

That all workers are offered free counselling services to protect their mental well being in light of the likely psychological distress caused by COVID-19.

That hot desking is ended in order to minimise the risk of transmission of COVID-19.

That workers are allowed to vary their working hours to reduce risk of infection on congested public transport.

That any worker who raises concerns about COVID-19 or refuses to undertake certain duties or outright refuses to work for fear of either contracting or transmitting COVI-19 will suffer no detriment or dismissal as provided for under section 7 of the Health and Safety At Work Act 1974 (HSAWA 1974) and Section 44 and 100 of the Employment Rights Act 1996 (ERA 1996).

That Clients who currently outsource any facilities services such as cleaning, security, catering or portering terminate their contracts with their private contractors and hire those workers directly as employees of the organisations or companies where they work.
FROM THE GOVERNMENT WE DEMAND
Temporarily suspend all mortgage, rent and bill payments both in residential lodgings and in commercial studios for freelance artists.

End all evictions for private renters, housing association and council tenants, with all current proceedings frozen and no new ones brought forth, including all current section 21 or section 8 evictions and applications for such evictions. Further, that any period of time spent in self isolation or ill with Coronavirus will be disregarded in section 8 hearings and not counted in the 'over 2 months of arrears' threshold.

Ensure the equivalent of school meals are provided for children if/when the schools are closed.

Ensure elderly and vulnerable populations in self-isolation are provided with care packages including food and medications, access to medical advice and online or phone companionship

Ensure all workers, including self employed contractors, whose employers or clients cease to pay their wages are provided with an emergency "Pandemic Payment" equivalent to a rate of at least the London Living Wage or the National Living Wage for workers outside of London at equivalent hours to those normally worked.