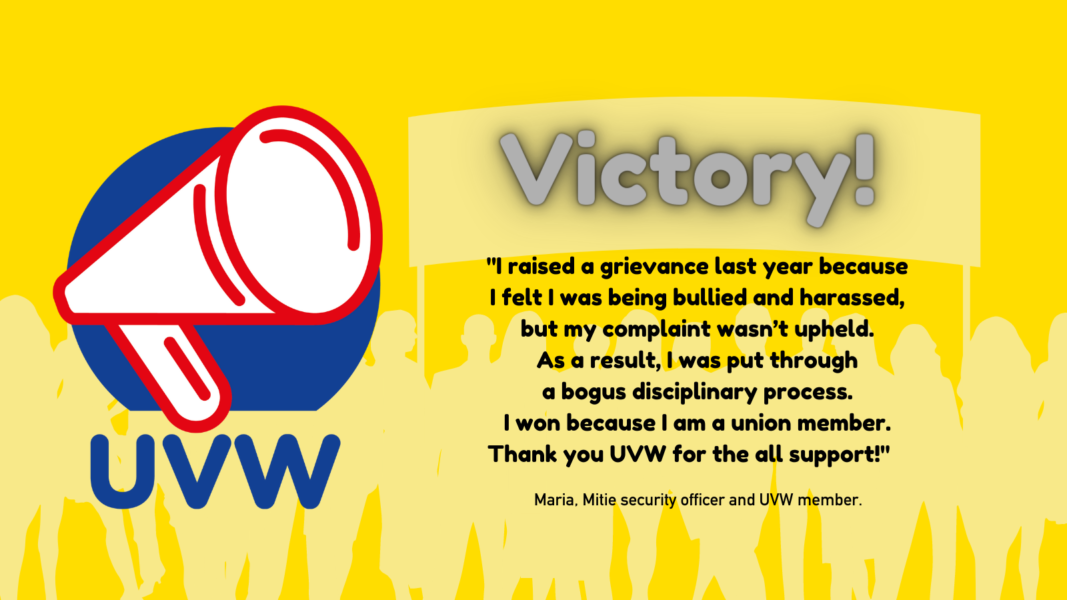 02.03.2022 / News /
UVW forces Mitie bosses to drop bogus disciplinary process against union member  
"I raised grievance last year because I felt I was being bullied and harassed, but my complaint wasn't upheld. To my surprise I was then put through a bogus disciplinary process, which I felt was related to my complaints. But thanks to the support and encouragement of my union, we managed to quash it. I won because I am a union member and I was very well supported by my union representative, Chris, who encouraged me and advised me at every step. I am so happy to be a member of UVW. I always recommend this union to my friends and my colleagues, and some have already joined. I advise everyone to join UVW. Thank you UVW for the all support!"

Maria, Mitie security officer and UVW member
United Voices of the World (UVW) has forced Mitie bosses to drop what it alleges was a bogus disciplinary process against a UVW member and outsourced security guard. Mitie bosses had tried to discipline Maria after she complained about being bullied and harassed, but Maria and UVW fought what they regarded as a fake disciplinary action and succeeded in getting it quashed. This is the union's latest victory in its struggle against exploitative and corrupt bosses. UVW is now pursuing Maria's original claims of sexual harassment, sex discrimination, victimisation and whistleblowing detriment through the Tribunals.
Last year, UVW member Maria was working as the only woman security officer at Matches fashion. As an outsourced worker, she was employed directly by giant facilities provider Mitie Ltd. In mid 2021, Maria raised a grievance complaining of bullying, unfair treatment, harassment, and sexual harassment against her team leader and another colleague, but her grievance was not upheld.
To her dismay, soon after this happened, she found herself being accused of bullying her colleagues and put through a fake disciplinary process, started by no other than her manager, one of the people she had raised a grievance against.
Maria's bosses claimed that she was using inappropriate language against her colleagues, yet all witness statements were anonymised.
They also said that she had checked CCTV footage for reasons unrelated to work, which is not allowed. But Maria was trying to confirm the identity of a colleague who had called her outside of working hours, passed midnight and without any explanation whatsoever. It turned out that that person was one of the people she had previously alleged was harassing her.
Maria felt victimised because she had dared to complain about her bosses. "I raised a grievance last year because I felt I was being bullied and harassed, but my complaint wasn't upheld. To my surprise I was then put through a bogus disciplinary process, which I felt was related to my complaints", Maria explained.
An external manager who didn't work at the same site as Maria was brought in to deal with the disciplinary process. UVW argued that the disciplinary was a direct result of the allegations that Maria had raised and that the claims against her had to be seen in the wider context of what was happening to her at work.
Chris Hudson, Maria's UVW case worker, thinks Maria's case is yet another example of how important it is to have a union fighting your corner. "Excessive and disproportionate disciplinary action is all too common these days. But workers shouldn't be scared to take on unscrupulous bosses with the support of their union to fight against unfair treatment in the workplace and win," he says.
Maria believes without UVW's involvement it could have been a very different outcome for her: "I won because I am a union member and I was very well supported by my union representative, Chris, who encouraged me and advised me at every turn. I am so happy to be a member of UVW. I always recommend this union to my friends and my colleagues, and some have already joined. I advise everyone to join UVW. Thank you UVW for the all support!"
This isn't the first time UVW fights dishonest Mitie bosses and wins. Earlier this year, UVW took Mitie to an Employment Tribunal where it obtained £38,000 in compensation for a UVW member who was fired from his job as a cleaner because of his union activities and membership, rather than for the spurious allegations of misconduct they made against him within a disciplinary process.
María's story doesn't end here. UVW's legal team have now escalated Maria's original grievance against her managers, specifically the allegation of sexual harassment, and taken it to the Employment Tribunal.