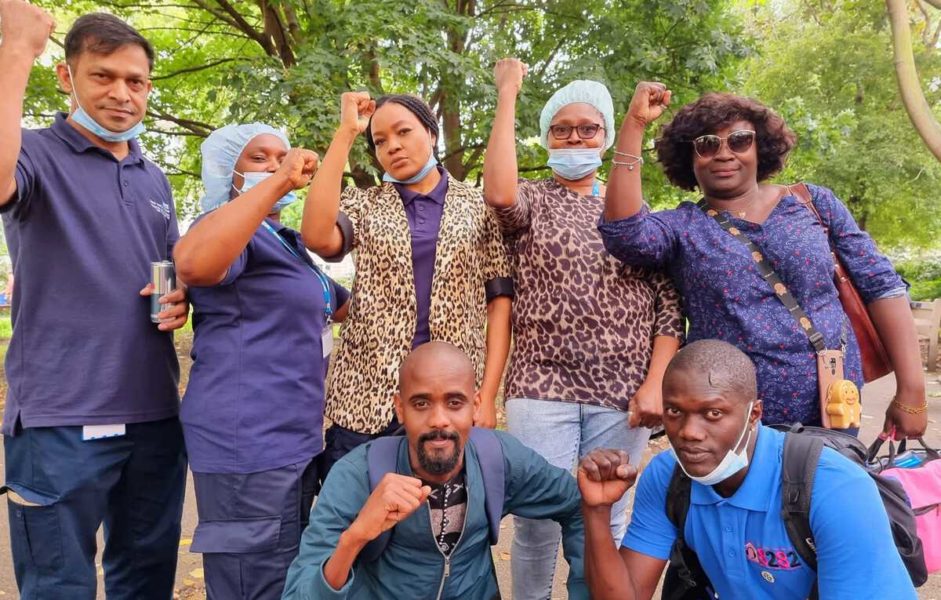 11.03.2022 / News /
Victory! Hospital Cleaners call off strike after winning full NHS parity from 1 April 2022
"We are all so happy. Our lives are going to change so much because now we know we are fully GOSH employees and it's permanent. No more humiliation and bullying for us. Thumbs up to UVW. We had nothing until UVW came to help us, so thank you UVW for all you've done for us. Greatest union ever."

Memuna Kabia, cleaner for GOSH and UVW member
Hundreds of cleaners and United Voices of the World (UVW) members at Great Ormond Street Hospital (GOSH), who were set to strike mid March over continuing inequality, have finally obtained full NHS contracts from 1 April 2022.
The hospital was dragging its feet over bringing the cleaner's contracts in line with the rest of their NHS colleagues, as promised when they were in-housed last summer. The cleaners and their union UVW forced the hand of the hospital by calling for a two-day strike mid March, which was averted after last minute concessions by bosses at GOSH.
The hospital had been giving the cleaners improved conditions in dribs and drabs but key terms such as overtime and unsociable working hours pay remained unaligned with those of their colleagues. For the low-paid workers, who regularly work overnight, evening and weekend shifts, the lack of enhanced pay meant thousands of pounds less per year than other hospital workers. All NHS contracts are ruled by the Agenda for Change (Afc) Terms and Conditions (T&Cs).
Memuna Kabia, cleaner for GOSH and UVW member, was ecstatic about the news and thanked UVW for its key role in their victory: "We are all so happy. Our lives are going to change so much because now we know we are fully GOSH employees and it's permanent. No more humiliation and bullying for us. No more disrespect. It means a lot to us. Thumbs up to UVW. We had nothing until UVW came to help us, so thank you UVW for all you've done for us. Greatest union ever."
Memuna had words of support and encouragement for the hospital's security guards, also UVW members, who are the only workers on site who are outsourced and not on full NHS contracts and are currently on strike: "I know our colleagues, the outsourced security guards who are on strike, need to keep fighting because it will happen for them too. They have to keep going and we are going to support them in whichever way we can so they can overcome this injustice too. I've got to believe that the hospital will bring them in-house too. We are all behind the security guards in their efforts," she said.
Petros Elia, general secretary for UVW, stressed the power of strike action and collective organising in this particular victory and in every worker's fight for equality, dignity and respect:
"This news marks yet another massive UVW win at GOSH which has come about because our members rightly threatened to strike on 17th March if GOSH delayed treating them as equals any longer. It says all you need to know about GOSH, and their CEO Matthew Shaw, that it takes the threat of a strike for them to do the right thing. We expect them now to do the right thing in respect of their security guards who have been on strike for weeks now and still only get Statutory Sick Pay. Our members will never tolerate being treated second class by GOSH or any employer, and we will fight for as long as it takes and with everything it takes until dignity and equality are guaranteed."
The hospital threatened UVW with yet another injunction when served with the notice of the upcoming cleaner's strike. But in a turnaround, following frantic meetings to avoid hundreds of cleaners walking out of their jobs, the hospital agreed to speed up the promised harmonisation of the T&Cs and the threat of injunction dissipated.