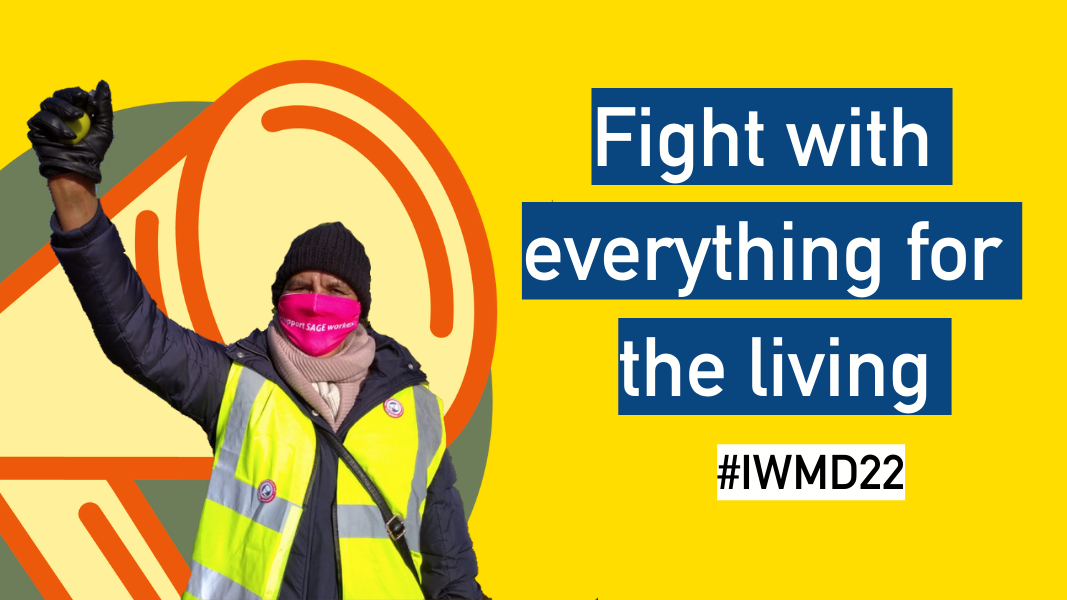 28.04.2022 / News /
Fight with everything for the living
United Voices of the World trade union (UVW) joins the global union movement on 28th April in marking International Workers' Memorial Day (IWMD)
Our members, migrant, precarious and low-paid workers, know what it's like to take on dirty, difficult and dangerous jobs. They are overworked, stressed and subjected to undignified treatment under pressure from bosses that are more interested in squeezing workers and increasing profits than safety standards.
Pre-Covid-19, the world over, whether in the private sector or the outsourced public sector, workers such as cleaners, sex workers, security guards, care workers, hospitality workers, those in precarious or unregulated jobs were more likely to suffer from stress, injury and death.
When the virus hit, it made a bad situation worse for precarious, migrant, and Black and brown workers with unscrupulous bosses whose lives were at risk for merely going to work like never before.
Despite lockdown, UVW members – from the carers, domestics and cleaners at Sage Nursing home, La Retraite School and Great Ormond Street Hospital, to the security guards at St Georges – kept London functioning.
But these invisible key workers not only risked their lives to keep public institutions, open, safe, and infection-free, they also rose up, organised their workplaces, and fought against poverty pay, for better conditions, protective gear (PPE), and full pay sick pay.
As one UVW member from Sage Nursing home said in the middle of the unprecedented care workers lockdown dispute in North London: "They say there's a pandemic, they say there's Covid-19, but there's a different covid; the bosses are the second virus." Bile, senior care worker
Tragically some workers, like Emanuel Gomes, a UVW member from Guinea Bissau, paid the ultimate price. Emanuel died with coronavirus symptoms on 24 April 2020, hours after finishing a night shift at the Ministry of Justice.
Petros Elia, UVW General Secretary said

"On International Workers' Memorial Day we remember Francisco, Emmanuel and Fernando, three members of UVW who were tragically taken from us too soon in the midst of their working lives. The toll the jobs take on our members cannot be overstated, nor can the risks they are exposed to. And their plights and lives often go unseen. That's why UVW will continue to shine a light on the most invisible groups of workers and help them organise and fight like hell for safety, dignity and respect at work"

IWDM is a day for the UVW family to remember all the comrades that are no longer with us and it's also a day to strengthen our resolve to organise with love, joy, defiance and determination, with everything, for the living.
On IWDM we call on you to stand with Great Ormond Street Hospital (GOSH) security guards who are battling for equality with their NHS colleagues. They are fighting for full NHS sick pay, so they do not have to choose whether to eat or be sick, and they are for maternity rights so they can enjoy the same time with their babies as the doctors, nurses and cleaners at GOSH.
Head to the campaign page to find out how you can support >>