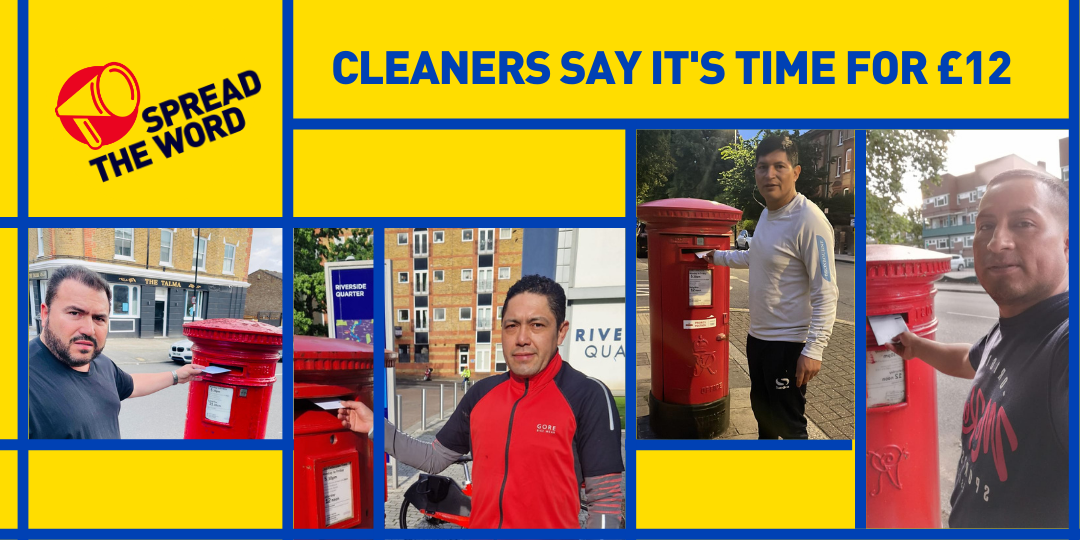 Latin American cleaners win union recognition
A group of cleaners, UVW members, at Riverside Quarter luxury apartments have won collective bargaining rights following a three month campaign for dignity and respect.
Riverside Quarter is a large private luxury residence located in Wandsworth, London. The development comprises around 650 flats across nine residential buildings, with commercial uses on the ground floor, one, two and three bedroom apartments and penthouses.
On Friday 10 June, a Central Arbitration Committee (CAC) panel confirmed their acceptance of UVW's application for statutory recognition there. Endersham, the company contracted to manage cleaning services for Riverside Quarters, from now on have to negotiate with the workers union of choice.
Endersham has repeatedly stated that Rendall & Rittner (R&R), the property management company, is the ultimate decision-maker in determining the cleaners' pay, and R&R have stated that the terms and conditions of Endersham's staff are entirely their business.
Whilst both Endersham and R&R were passing the blame onto the other party and the workers were awaiting the CAC decision, with the backing of their union they began to vote on whether to take strike action.
Ernesto Suarez Velarde, cleaning supervisor from Bolivia said: "I have worked for this company for almost 10 years. At first I felt good working here. The salary was decent. But now, things are not good, it's not great working here, we are on the bare minimum and it's not enough to pay for anything."
A UVW spokesperson said " These low paid workers have now won the right to collectively bargain, proving once more that migrant workers refuse to be invisible and when standing together will fight for dignity and respect without fear."
Commenting on the recognition agreement and the cleaners ballot for strike action, they continued "winning the right to sit down at the negotiating table is only as effective as the power to walk away should the bosses fail to give workers what they need and deserve."
Endersham will meet with the workers at UVW offices on Wednesday 15 June. The hope is strike action will be off the table and the demands for a living wage and decent terms and conditions are granted.
Click here for campaign page update >>