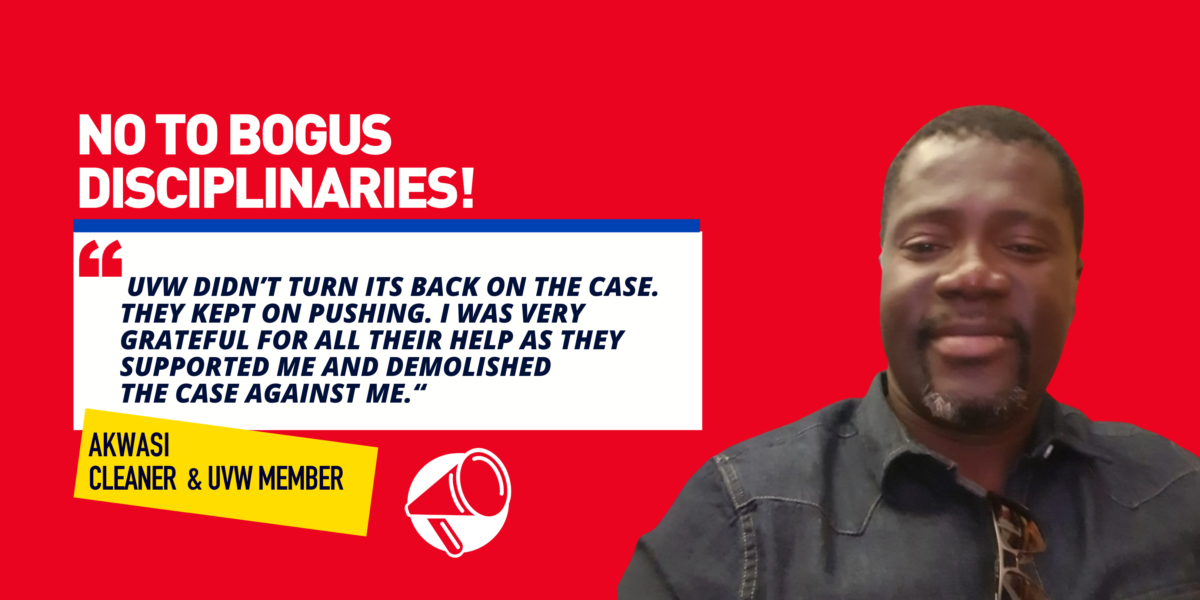 14.07.2022 / News /
A taste of victory: union quashes bogus disciplinary against noodle-eating cleaner  
"The union was very helpful when the incidents happened and went into gear from the moment I contacted them. UVW didn't turn its back on the case. They kept on pushing. I was very grateful for all their help as they supported me and demolished the case against me."

Akwasi, cleaner and UVW member
A bogus disciplinary against an outsourced migrant cleaner and United of the World (UVW) member was quashed after the union threatened legal action against his employer, facilities services contractor GSA. Akwasi was accused of eating noodles from a pot without permission while on the job at a restaurant inside a major central department store. But UVW shut down the spurious process, which would have stained Akwasi's six-year-long clean record at the company or even led to his eventual dismissal, from the get-go.
Akwasi has worked as a night shift cleaner for this company for many years. One evening, around 9.30pm, he went to get his phone which was charging in the kitchen of one of the restaurants and a worker offered him some leftover noodles from a pot to taste. He accepted the kind gesture, grabbed a spoon and helped himself to a bit of food. Then he went back to his work.
Akwasi was suspended for almost two weeks and had the threat of dismissal hanging over his head because of a spoonful of noodles which were going in the bin at the end of the day. He was called into an investigation meeting, and later summoned to a disciplinary hearing. The company said he had been spotted on CCTV footage helping himself to 'noodles and sauce' without authorisation. His job and reputation were at risk of going to pot.
When UVW got involved in Akwasi's case, they fought boldly together to successfully repel the unfair accusations. They put the company under pressure, threatening legal action, and got the disciplinary hearing quashed entirely. "The union was very helpful when the incident happened and went into gear from the moment I contacted them. UVW didn't turn its back on the case. They kept on pushing. I was very grateful for all their help as they supported me and demolished the case against me," Akwasi says. He never had to attend and has kept his record clean. It was important to shut down the process at the early stages, because once a worker goes to a disciplinary hearing, there is a good chance they will be sanctioned to prove that the hearing was necessary.
Akwasi says he was rather surprised by the accusations. He's worked for six years for this company always at the same site and he'd never had a problem like this before. He hails originally from Ghana and has three children here in the UK.
He believes these behaviours are commonplace but we can successfully fight back with the support of a union. "When things happen, and the workers don't have a union behind them, they get sacked straight away. But once they have the union, the union can intervene and stop the whole thing. Some people don't join unions because they are scared that it's going to affect their standing in the company they work for but in reality, it's there to stop your employer from exploiting you," he says. Employers will go after workers for the most minor infractions of the rules, and union members are often disciplined for trivial reasons, especially in the hospitality and cleaning sectors.
Akwasi tells others to join the union. "You need to join in case you have some incidents at work so that you wouldn't be sacked unnecessarily. And the union will fight till the end. The union will stand for you. The union is like your mother. It will tell you honestly this is good, this is bad, we are going to try this and this, or next time don't do these things again. That's what it takes. I'm very grateful to have a good union. "