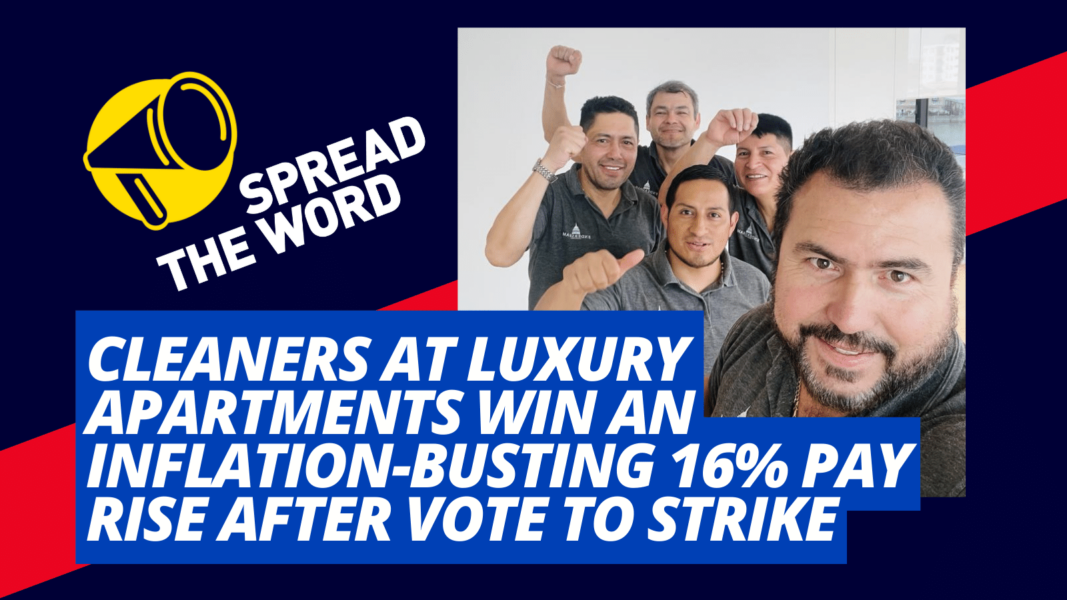 Strike averted as cleaners win inflation-busting pay rise
Latin American cleaners from Ecuador and Bolivia who work at Riverside Quarter, a large luxury residence in Wandsworth, London, have won a 16% pay rise bringing them up to £11.05 an hour from their previous rate of £9.50, the national minimum wage. This pay rise comes after the cleaners, who are United Voices of the World (UVW) members, voted to take strike action, with 100% of the UVW cleaners balloted voting to strike.
The cleaners have also won 6 weeks half pay sick pay, a significant improvement on the statutory sick pay they were getting, which stands at £99.35 per week. These wins come after the cleaners won statutory union recognition through the Central Arbitration Committee earlier in June. In the midst of a cost of living crisis in one of the most expensive cities in the world, the timing of this win could not be better.
Ernesto Suarez Velarde, a cleaner at Riverside Quarter and UVW member, says: "It is truly proven that when a group is united and all are in the same mindset, victory will be achieved in the end. This is the case with us, we never gave up even though we had our concerns of being victimised for being trade unionists at the beginning."
Ernesto is encouraging other workers to fight for higher wages, saying: "Thanks to our union UVW, they never abandoned us but rather gave us strength with their words to continue in this struggle. To all the comrades who are fighting at this moment for a better salary, don't lose heart, be united, victory will come in the end, you just have to be determined."
Manual Callau Vidal, a cleaner and UVW member says: "I am very happy for the victory that we have achieved after so much struggle, many thanks to our representatives at UVW for their support, and for giving us encouragement and confidence in this struggle, which at the beginning seemed impossible, but when one remains united everything is possible.
Manual calls on other workers not to lose hope, saying: "To the comrades who are fighting, stay united and don't lose hope that in the end you will come out with the victory."
"This dispute was won through the determination of the Riverside cleaners, standing together, to take strike action if necessary to win a better deal," says Chris Hudson, a union representative for UVW. "The disparity was stark. Despite being key workers and working at a luxury residential complex with two-bedroom flats going for close to £800,000, they were only being afforded minimum wage and statutory sick pay, even though they worked throughout the pandemic."
Chris adds: "Their victory will put an extra £3,000 a year into the cleaners' pockets, constituting an inflation-busting pay rise of over 16%, and also means they will receive a further pay rise come 1 January 2023. Having also won trade union recognition earlier this month via the Central Arbitration Committee, we will now finalise the details of a collective bargaining agreement which will oblige their employer to regularly come to the table to negotiate with the workers on their terms and conditions. This is another example of migrant workers leading the way in wage hikes."

Check out the workers campaign page here >>