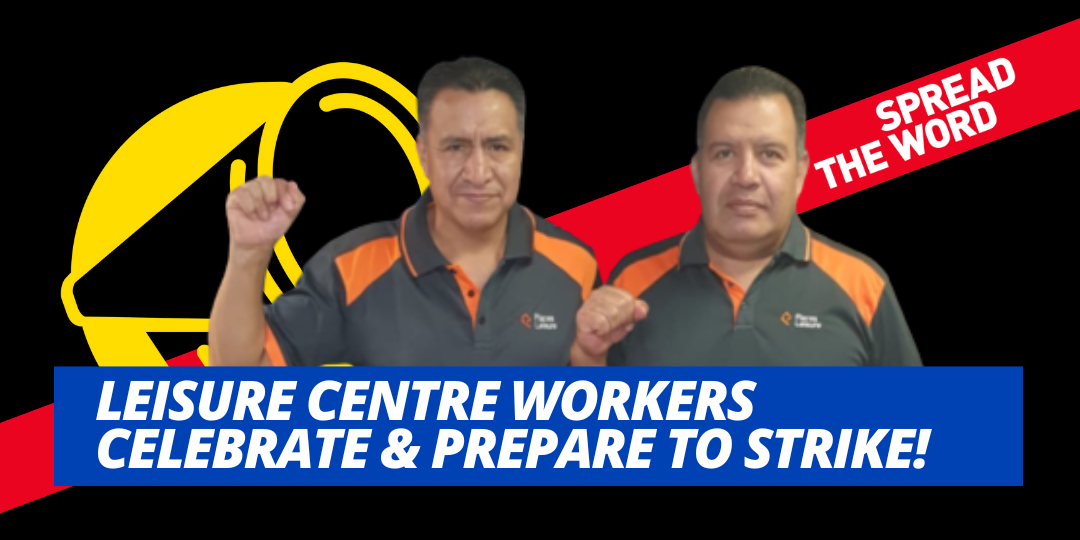 Latin American cleaners in Battersea celebrate and prepare to strike!
This week talks between cleaners and Latchmere Leisure Centre bosses resulted in broken promises on a pay offer and the cleaners strike ballot returned a 100% Yes vote.
Latchmere centre bosses rescheduled last week's talks, facilitated by independent body Acas, where UVW members were promised a decision on recognition and a much awaited pay offer. Disgracefully the promised pay offer was replaced with broken promises and delaying tactics.
Policy and Employee relations specialist, Stuart Lowry, kicked pay talks into the long grass by insisting on agreeing a union recognition framework first, which could take weeks to agree.
This understandably stoked the flames of indignation of UVW members who pointed out that Latchmere bosses were treating them with disrespect and wasting their time, for which unlike Stuart Lowry, they are not paid for.
The Latin American cleaners, currently paid £9.55 per hour which is 5p more than the minimum wage, are demanding a pay rise to over £12 an hour in light of the cost of living crisis. Our members, clear and adamant they need the pay rise now, have flatly refused to delay strike action following these talks and gave Latchmere one last chance to reach a deal before strike dates will be announced next week.
Latchmere bosses did not back down and apologised for the 'confusion'.
UVW members spoke honestly and without hesitation or fear when expressing to Stuart Lowry how hurt, misled and disappointed they felt at being forced to take strike action.
"We are not stupid, we understand enough English to know there was no confusion at our last meeting. You made a promise to us" said Marco
"We no longer have trust in these talks, we have had low pay for years and we have been discussing it for years. The only thing we can do as workers now is to go on strike" said Juan
"You are not respecting us as human beings, we have worked at Latchmere for years. We need this company to support us in this cost of living crisis. Striking is our last resort" said Monica
Petros Elia, UVW general secretary says, "The conduct of Latchmere Leisure Centre bosses in the handling of this dispute has been despicable and an insult to our members. Refusals to make a pay offer despite two wasted meetings with Acas and now insisting on holding out further until our recognition deal is signed and then new talks convened under the terms of the deal is nothing short of a cynical delay tactic that our members will not tolerate."
He continued "Our members need and deserve a proper pay rise now and Latchmere bosses need to realize that. No more excuses. No more delays. The time to pay up is now and our members will have our full backing in this dispute and in any strike action they may be forced to take until they win."
The leisure centre is owned by Wandsworth Council, who pay £3.7 million a year to Places for People Leisure Management (PPLM), to manage the council's leisure centres on their behalf. PPLM has been paid £22m over the life of the outsourcing contract.
PPLM's parent company, Places for People (PfP) – one of the UK's largest private housing associations – has over £4.9bn in assets, made a profit before tax of nearly £80 million last year and has over £700 million in reserve, yet only pays cleaners at Latchmere poverty wages.
UVW will be building a campaign plan with community support and more – watch this space.
Head to their campaign website here >>