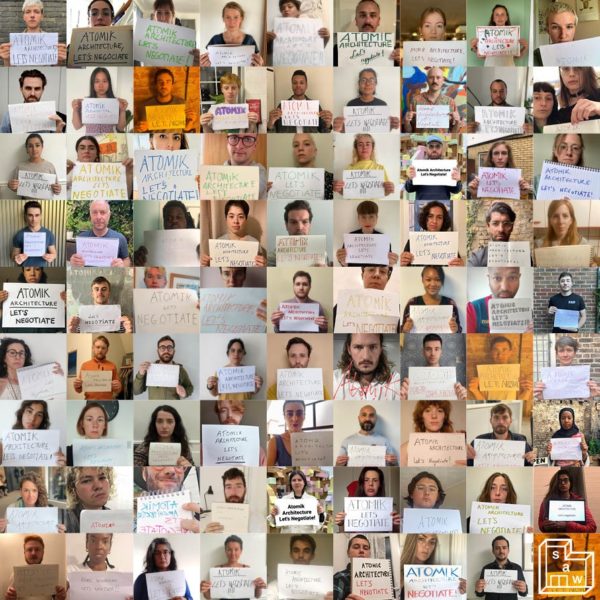 14.09.2022 / News /
Architectural workers initiate historic strike ballot
"We have all worked at Atomik for a number of years, but that loyalty has not been reciprocated in meaningful improved pay or working conditions. We have been forced into this position, striking is our last resort."

Atomik workers
Workers at London-based architectural practice Atomik Architecture (Atomik) will ballot for strike action, in what could be the first ever strike by private-sector architectural workers in the UK. The workers have been threatened with redundancies after they told their employer that they are in dispute.
On Tuesday, the Atomik workers, who are members of United Voices of the World – Section of Architectural Workers (UVW-SAW), gave notice of their intention to ballot. The workers are demanding a pay increase, reduced working hours, flexible working arrangements, paid training, and trade union recognition.
Atomik workers issued a statement which said: "We are disappointed that Atomik has continuously dismissed and ignored our individual and collective concerns. We were expecting to collaborate to improve conditions at the practice but instead, we have had months of empty promises and zero progress. We have all worked at Atomik for a number of years, but that loyalty has not been reciprocated in meaningful improved pay or working conditions. We have been forced into this position, striking is our last resort."
In June 2022, some workers individually raised the matter of pay in their annual reviews. When they were ignored, they wrote a collective letter outlining their demands.
UVW-SAW has been informed that after receiving the letter, management agreed to meet workers but refused to negotiate. During the meeting itself, the directors appeared to fail to understand the serious impact rising living costs were having on workers, and flat out refused to share financial information for the company, both of which left the workers frustrated and distrustful.
The workers were left with no choice but to notify their employer that they are in dispute over pay and conditions. They hoped that this would show Atomik that they are serious about these concerns, and meaningful negotiation could commence. But Atomik's response was to trigger a redundancy consultation, which will most likely lead to dismissals. This came as a shock to the workers, who until recently were under the impression the company was looking to expand the number of employees.
Bosses at the architectural practice have refused to postpone the redundancy consultation meeting called for Wednesday 15 September to give the workers and their union time to prepare.
Jake Arnfield, UVW-SAW representative, said: "What we are hearing from our membership is that most workers are not getting the pay rises they need. In a sector which has had stagnant wages for at least 20 years the cost of living crisis is exacerbated – particularly for those at the lower end of the pay scale.
Arnfield added: "Numerous groups of architectural workers are looking very seriously at industrial action as one way to resolve this. If even a single strike happens, it could trigger a wave of strikes in architecture this autumn and winter. If you work in architecture, we encourage you to get behind Atomik workers. Their success is part of the movement to raise wages and eliminate rampant exploitation in the sector."
Petros Elia, general secretary of UVW, said: "We believe our members at Atomik are the first ever group of private sector architects to ballot to strike, so if this strike goes ahead it will be an industry first, and one that all architects and members of the movement should get behind. UVW has shown yet again that there is no group of workers who are unorganisable, and whether you are an architect or a cleaner, you have the power and every reason to unite, fight and strike. I call on Atomik's bosses to negotiate with us and avoid what could become incredibly operationally and reputationally damaging strike action which will receive the full support of our union. The choice is yours."
After two years of uncertainty and low wage growth, architectural workers are refusing to accept the cost of living squeeze whilst they deliver profits for their employers.