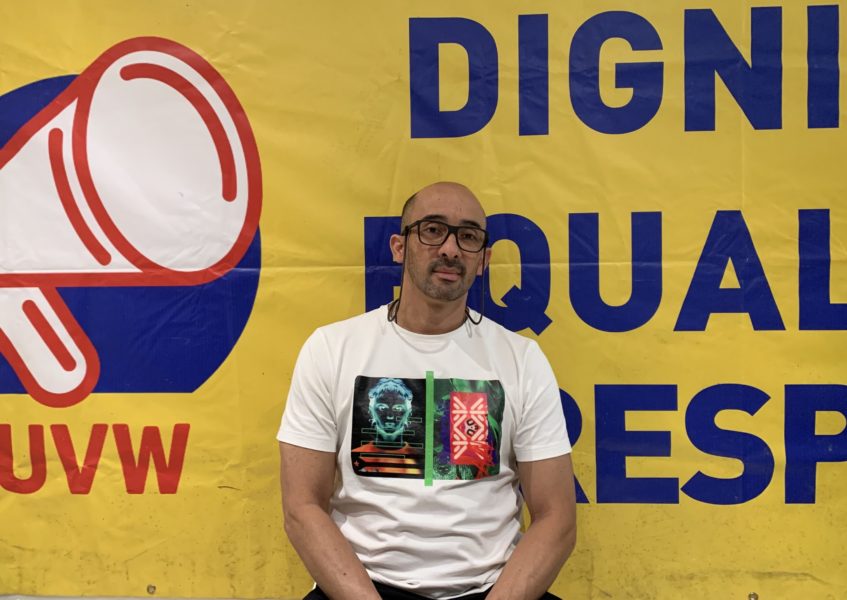 UVW to sue LSE for disability discrimination and trade union victimisation after sacking strike leader
"My condition has got something to do with it, but I think there's more to it. I've always been at the forefront of the fight… because I consider myself a union leader."

Geovanny Moreno Buitrago, LSE cleaner and UVW member

UVW strike leader Geovanny Moreno Buitrago, a migrant cleaner from Colombia at the London School of Economics (LSE), was sacked after being off sick with a herniated disc as he tried to return to work. UVW is appealing and suing for his dismissal on grounds of disability discrimination and trade union victimisation.
In spite of two expert medical opinions, Geovanny's willingness to come back to work, his own recommendations on what he is capable of doing, and LSE's own health policies, LSE sacked him. "Because of my condition, LSE has deemed me unfit to work, which is not the case. LSE's own Occupational Health doctor recommended that I go back to work with some adjustments that LSE could make and my GP said the same. But LSE refused. They refused to give me the opportunity to come back to work," Geovanny said.
We believe he was unfairly dismissed, that LSE is not only discriminating against him because of his current disability, but using his disability to victimise him for his trade union activities. "My condition has got something to do with it – he says – but I think there's more to it. I've always been at the forefront of the fight for LSE to give me and my colleagues what we deserve. And when I joined UVW it got more intense, because this union has really supported us. We've already won a battle with our union, UVW, when we were brought in-house (in 2017) by LSE… Because I consider myself a union leader."
Geovanny was heavily involved in organising the LSE's cleaners strike early this summer. In August, the UVW striking cleaners launched a legal claim to demand the thousands of pounds owed to them over several years following the underpayment of their holiday pay. "These conversations have been taking place for four or five years. They call us in, and we sit around the table. We talk and nothing changes. So we ended up having to go on strike again and we hope we can find a solution to the issue of our unpaid holiday entitlement, And if we have to go back on strike, we will." he explains.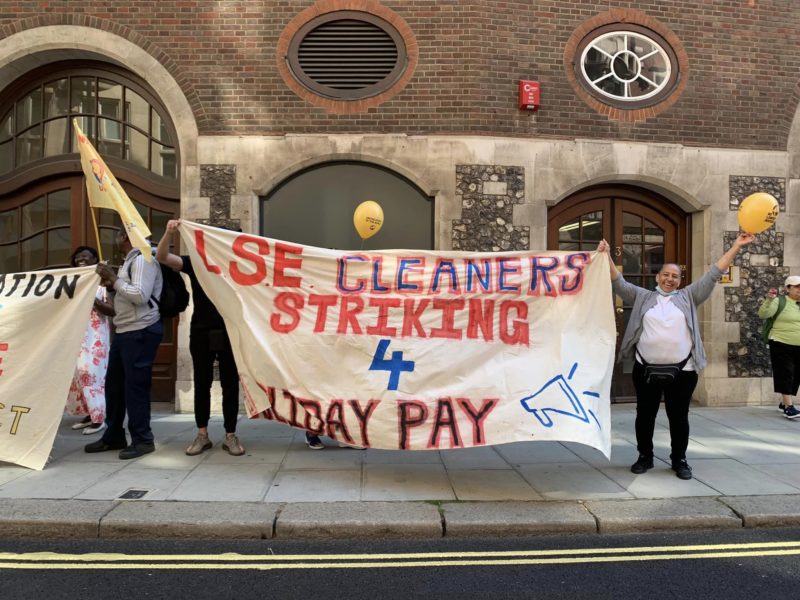 Geovanny has been employed at LSE since 2015 as a "General Assistant'. From February 2022 to 20 June 2023 he was on long term sick leave with a herniated disc. According to his doctor this is not a degenerative condition, but a permanent one that can be managed with injections, and recommended a 'phased return' to work with some reasonable adjustments, such as a 5 to 10 minutes break every hour, not carrying loads of over five kilos in weight, or cleaning surfaces above waist-height. Geovanny is perfectly able to work right now under certain conditions and was medically certified fit to work and reported to work in June. "Right now, during the summer, the students are away, so I could do room supervision, paperwork… tasks I've already done at LSE before… but they said "you can't do this or that " he points out.
LSE has multiple sites, multiple shift times and multiple cleaning duties. However, LSE has refused to make the necessary adjustments, refused to find alternative employment for him and refused to pay him his salary since he was cleared for work. This has been especially hard on him and his family who only recently welcomed a new baby.
LSE has even contravened its own policies, which clearly state: "the School is committed to supporting employees who are unable to return to or continue with their full duties due to ill health by making appropriate adjustments to their role. (…) permanent adjustments will be considered where this is considered reasonably appropriate".
We strongly believe that LSE's hostility to Geovanny's trade union UVW and his activity within it is the main reason to dismiss him. There was strong evidence in the course of the industrial action of 2017 that the LSE maintained a blacklist of trade unionists. We have reason to believe this could be happening again.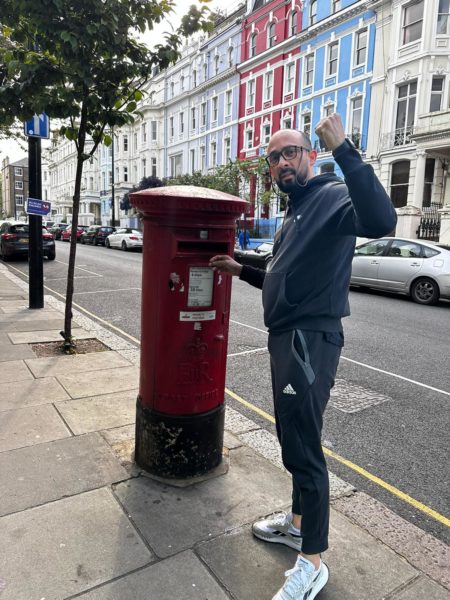 UVW is demanding that Geovanny is reinstated, that he receives his full wages from 20 June 2023 when he was deemed fit and willing to work and that he and his colleagues receive the full and backdated holiday pay they accrued and are owed over the course of their employment with LSE.
"UVW is like a family. A big family where we support each other until we win. I want to encourage all colleagues at LSE and other non-unionised workers out there to come and join us in UVW to not let us be trampled on so we can have a fair and dignified job in a healthy work environment," says Geovanny.
If you want to support the brave LSE cleaners, please consider donating to their fund >>
Or becoming a UVW solidarity member >>