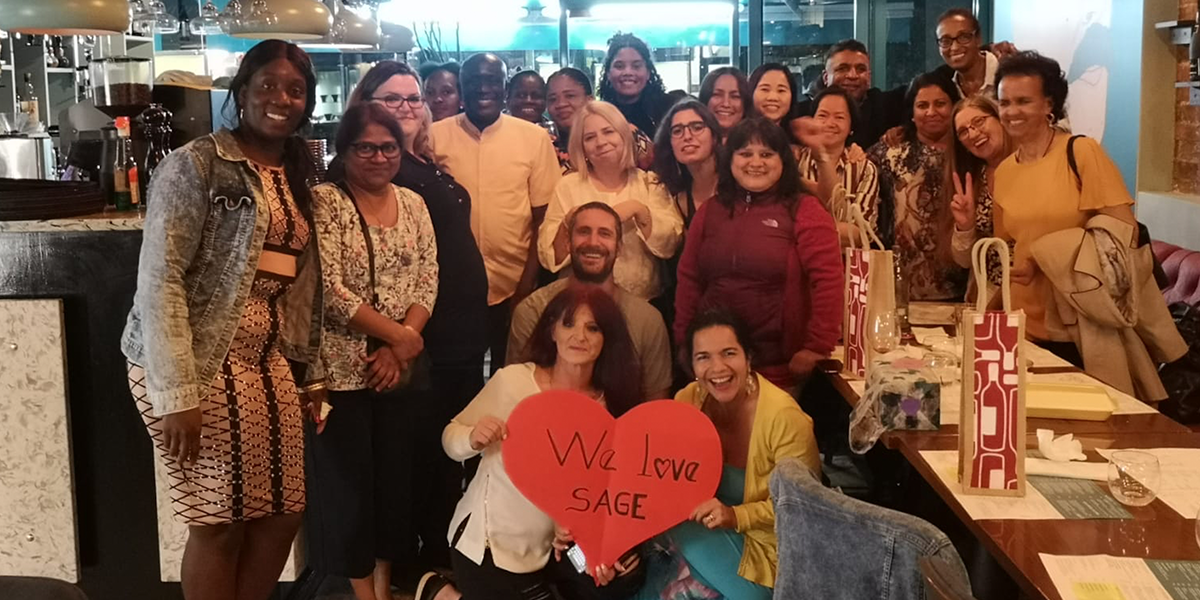 15.01.2021 / Press releases / SAGE
Care worker walkout is "historic turning point for key workers" says trade union in care home dispute
Care workers, cleaners and maintenance workers at Sage Nursing Home in Golders Green North London have today walked out in a 3-day strike in what their union has described as "a battle for an end to poverty wages and basic respect and dignity in the workplace". The workers, who are members of the trade union United Voices of the World (UVW), are demanding a £12 per hour pay rise and the same level of sick pay and annual leave as NHS workers.
The strike comes after months of back and forth between the workers and Sage's trustees, two of whom are billionaire landlords and owners of property empire Daejan Holdings, Benzion and Solomon Freshwater. UVW officials have described the strike, which they say will "be the first of many", as a "last resort" brought about by the trustees' "unwillingness to negotiate in good faith".
Andrene, a care worker with 17 years of service, said the following: "We're ready. We believe in what we are doing. We have been ignored for months, just like care workers all over the country. This is the only option left for us. Our employers need to do the right thing. We must make a change in this industry, if we can't during the pandemic, then when?".
Bile, another care worker with 11years of service said the following: "It is unreasonable to be living on poverty wages for years and years. We are care workers, we have empathy for the residents we care for. They have taken advantage of this fact for a very long time. Going on strike is a horrible decision, and it's tough to do it during lock down, but if we don't do it, nothing will change. We are doing this for ourselves, our families, the residents we care for and care workers up and down the country".
Molly de Dios Fisher, an Organiser with UVW, said the following: "This strike is a historic turning point for key workers in the UK, care workers have been paid poverty wages and denied basic respect and dignity in the workplace for too long. It beggars belief that the workers at Sage lack an adequate full pay sick pay package. Something which forces them to come to work when sick and puts their health and the health of residents in danger. These workers have given everything for next to nothing. They are not asking for luxuries, they're asking for the bare minimum. They have tried to negotiate with the trustees for months, but the trustees' unwillingness to negotiate in good faith has left them with no choice but to go on strike as a last resort. This dispute could end today if Sage simply got round the table and made an offer".
The dispute has begun to grab national attention after several MPs from the Labour Party and Green Party tabled and signed a parliamentary Early Day Motion in support of the workers and a petition set up by the workers attracted almost 75,000 signatures.
###
Editors notes: come to our socially distanced picket line and meet the workers in person!
On Friday the 15th from 8am to 11am the Sage workers will be holding a socially distanced picket outside the care home. Messages of support from workers from all around the world will be played from a PA system; there will be food; music; and you will have the chance to speak to the workers directly and find out what a victory would mean not just for them, but for care workers across the UK.
For more information, quotes and photos please contact: