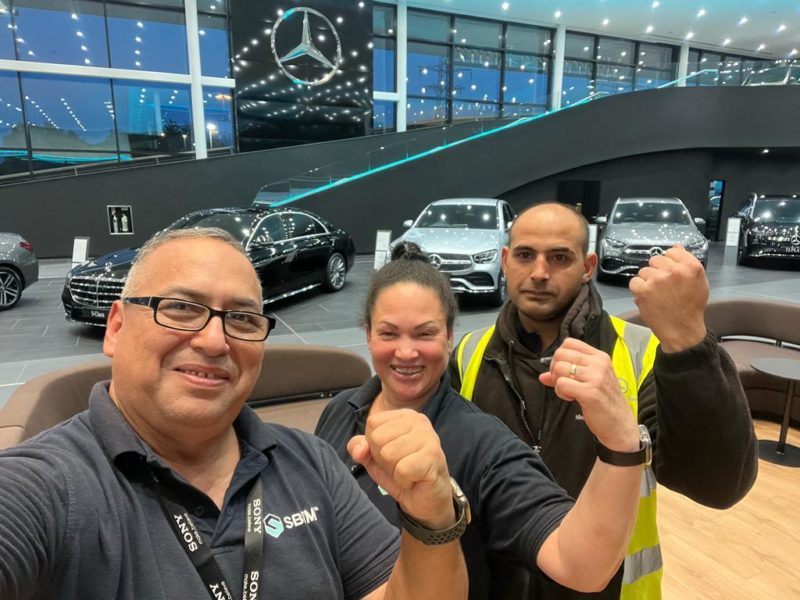 09.12.2022 / Press releases / Mercedes
Migrant cleaners at Mercedes-Benz showroom to ballot for strike action over poverty wages
Migrant cleaners working at the Mercedes-Benz showroom in Dartford have instructed their union to ballot them during Christmas with a view to strike early next year for a 30% pay rise.
The cleaners' demands include £13 an hour, extra pay for extra work and recognition of their union, United Voices of the World (UVW).
Luxury car giant Mercedes-Benz reported a net profit of €23.4 billion for 2021 while their cleaning contractors pay poverty wages to migrant cleaners.
The cleaners only receive £10 an hour, a meagre 50p above the minimum wage, and 90p below the recommended UK Living Wage of £10.90 per hour. Having endured a four-year pay freeze, their situation has become unsustainable with inflation skyrocketing to around 14% (RPI).
The cleaners are demanding £13 per hour and enhanced pay for extra responsibilities during their shifts. They want UVW as their union of choice to be recognised so they can collectively bargain for better pay and working conditions.
The cleaners work in a Mercedes-Benz Retail Group UK Limited (MBRG) luxury car showroom, run by property services company CBRE Limited while outsourced to commercial cleaning providers SBFM Limited. All of these companies have been making healthy profits while the cleaners get poverty wages.
The workers and UVW believe that a £3 per hour pay increase is easily affordable for the businesses with negligible impact on their thriving operations.
Mercedes-Benz confirmed an astronomical net profit of €23.4 billion in 2021. The current assets for Mercedes-Benz Retail Group UK Limited (MBRE) stood at over £217,000,000, while the directors' remuneration soared at £257,000, over 10 times the cleaners' annual income.
Magnolia, cleaner and UVW member, said:
"I've been working in this Mercedes-Benz showroom for four years with the same salary, and the longer I work here, the less I take home because the cost of living is snowballing, making everything more and more expensive every single day; food, transport, bills… But we've been asking for months for a pay rise and they've said no to us. This isn't fair! They are a very profitable company. They keep selling more and more cars. We've reached the limit of what we can endure and we are ready to fight for a decent pay rise and better conditions."
José, cleaner and UVW member, said:
"We want them to respect us as workers and to recognise the contribution we make with our work. If we don't get the demanded pay rise and working conditions, we will strike. It's £13 an hour or strike! There's no other option for us because the current situation is so dire and the cost of living crisis is only going to get worse. We are not asking for anything extraordinary, we are asking for a very reasonable increase, affordable and fair. We are not just fighting for us but for all cleaners out there and all other workers who are in a similar situation to ours."
Petros Elia, UVW general secretary, said:
"Instead of addressing the collective demands of this group of low-paid migrant cleaners, the wealthy employers have claimed the pay rise is too expensive for the business and tried to sow division by offering one of the workers a separate pay rise. This is callous and unbecoming behaviour from such big and cash rich bosses who would hardly notice the difference in their fat wallets if they gave this tiny group of workers the humble pay rise they are asking for. Our members have been very patient for four years without a pay increase but now they've been left with no choice. We will support their strike action in every way we can and we call on other workers in the area to come and join their fight."
For further information contact the UVW comms team.

Cristina: 07548 759340
Jim: 07749 765264
Isabel: 07706 987443
E-mail: comms@uvwunion.org.uk

Notes for editors
United Voices of the World is an anti-racist, member-led, direct action, campaigning trade union and we exist to support and empower the most vulnerable groups of precarious, low-paid and predominantly BAME and migrant workers in the UK. We fight the bosses through direct action on the streets and through the courts and demand that all members receive at least the London Living Wage, full pay, sick pay, dignity, equality and respect.