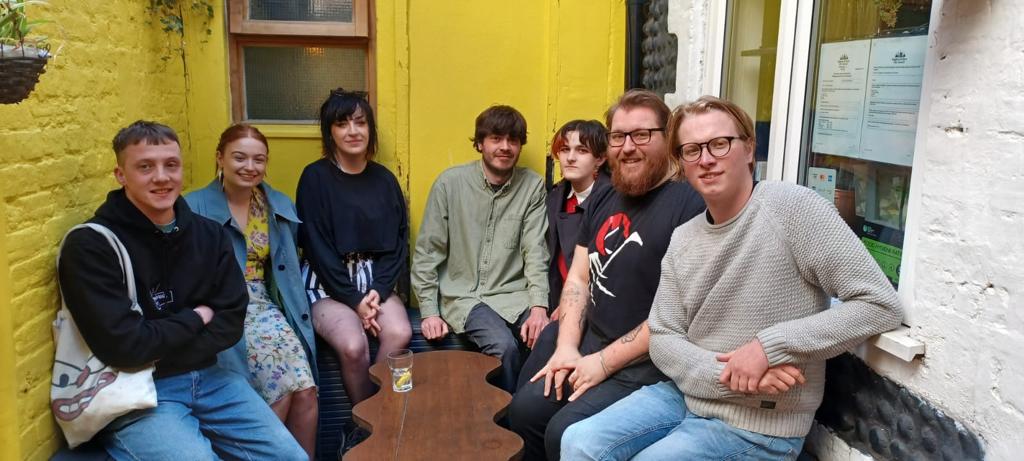 25.05.2022 / News / Saint James Tavern
No half measures! Brighton pub staff vote unanimously to go on strike, and sue their employer 
"For me and my friends and fellow workers at Saint James' Tavern, for the bare minimum conditions and respect at work. That's why I'm striking."

Tris Houseman, bartender at St James Tavern and UVW member
A small team of pub workers in Brighton are taking on their bosses. They unanimously voted to go on strike over pay and conditions, and they are suing their employer for alleged harassment and discrimination. They are saying enough is enough!
The determined group of workers and United Voices of the World (UVW) members claim they have been subjected to mistreatment for a long time, alongside poor working conditions. The situation was so dire that many felt compelled to quit their jobs and some of those remaining have second jobs due to their low wages.
Bar staff at the Saint James' Tavern (SJT) in central Brighton were balloted in May for strike action over pay and working conditions. 100 per cent of the workers balloted voted and 100 per cent of them voted YES to strike action. Some of the workers are also suing SJT for alleged harassment and discrimination, including allegations of transphobia, sexism and anti-Semitism.
Jake Marvin, one of the bar managers at SJT and UVW member, explained that the young team have had enough of low wages and what they claim are increasingly aggressive outbursts from the landlords. "We are striking for the basic right to respect in the workplace, for an end to exploitative zero-hour contracts, and against the refusal to provide our basic statutory rights. We as workers at St James' Tavern have felt consistently undermined, the physical and emotional welfare of the staff as a whole feels entirely neglected, But the fact we have unanimously voted to strike shows how strong we are. Together we can overcome any adversity!" Jake says.
The workers are demanding an end to zero-hours contracts, a minimum pay increase to £11.50 for all staff as well as a full sick pay scheme including cover for Covid-19-related sickness absences, which they haven't had during the pandemic.The workers also want no cuts to staff hours, a security response team on site at all times as well as voluntary recognition of UVW as SJT workers' trade union.
Some of the workers are also taking their employers to tribunal over alleged harassment, including allegations of sexism, homophobia, transphobia, disability discrimination, as well as anti-Semitic comments. The legal claim also addresses the failure to implement statutory requirements such as providing the workers with written contracts and paying them on a set date.
"Feeling undervalued and disrespected by people you are generating money for, money that is barely seen by us, feels so humiliating and degrading on such a personal level," said Tris Houseman, bartender and UVW member at SJT. The group of would-be strikers are not just colleagues, but comrades and friends united in solidarity: "For me and my friends and fellow workers at St James' Tavern, for the bare minimum conditions and respect at work. That's why I'm striking."
The workers at SJT are setting an example within the hospitality sector, says Kate Flood, UVW trade union organiser for the workers at SJT. "Fighting back against their poor working conditions by taking strike action, and refusing to accept alleged harassment and discrimination, these young workers are setting the stage for change across an under-unionised, under-appreciated hospitality sector, and hitting back at the idea that poor conditions and mistreatment are 'just part of the job'".
SJT is leased from Stonegate Group, the largest pub company in the UK, to the current owners. Stonegate has been contacted but they claim not to have the power to make changes at SJT. They seem to be washing their hands of all responsibility towards the workers, claiming the leaseholders, Zakaria Abedi and Victoria Bennett, are the decision makers with regards to staff pay.
"Pub worker strikes are very rare to see and are much needed to overcome the low wages and poor treatment that ravage the sector. That's why this strike is of paramount importance not just for these amazing workers but for all hospitality workers. And we're calling on the movement to back them because a win for them is a win for all," explains Petros Elia, general secretary of UVW.
The pub is located on St James' Street, in the center of Brighton, known for being the location of most of Brighton's queer spaces.