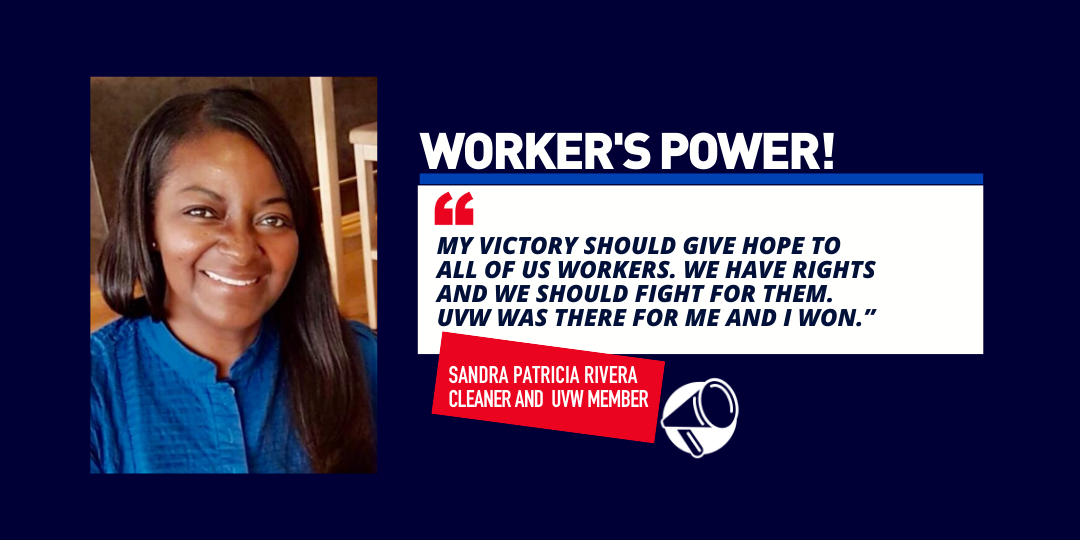 01.06.2022 / News / Worker's Story /
Worker's power: Employer forced to pay back nearly two years in unpaid wages to cleaner after it cut her hours without her consent. 
"My victory should give hope to all of us workers. We have rights and we should fight for them. UVW was there for me and I won."

Sandra Patricia Rivera Uzuriaga, cleaner & UVW member
A Colombian migrant cleaner and UVW member who sued her employer for cutting her hours and wages without her consent, will be paid almost two years of unpaid wages she is owed. An Employment Tribunal ruled at the end of May that the company she worked for had no right to unilaterally cut her contractual hours and pay, including her holiday entitlement. Following the judgement, the company also offered her the missing hours back. Workers should have a say in how, where and when we work. Employers can't just take away our contractual hours and pay without our agreement if they haven't offered us proper alternatives.
Sandra Patricia Rivera sued her employer, outsourcing cleaning contractor Bayleaf Facilities Management Ltd (Bayleaf), with the help of her union United Voices of the World (UVW).
Sandra has been employed as an outsourced cleaner at the Chanel Store in Covent Garden since 2011, when she first arrived in the UK. She was born in Colombia and lived in Spain for over 15 years before moving here. She says she has always been happy working at Chanel – "We are like a big family here" – and that her first employer, Britannia, was 'excellent'. Things began to change when Bayleaf took over the cleaning contract for the store in 2017. Bayleaf has a turnover of £6 million and employs around 400 people.
Her contract with Bayleaf established that she worked a minimum of 10 per week, Monday to Friday, but after the first pandemic lockdown was lifted and the Chanel store re-opened, she was told she'd only be needed six hours a week. The shop was open every day of the week and she found herself expected to work fewer hours while cramming more work; a five-day job in just three. Her salary was shrinking at the same rate; almost halved, she saw a 40% reduction in her wages.
Sandra made it clear she didn't agree to these changes and asked whether there would be alternative work at other stores managed by Bayleaf to make up for the lost work at Chanel. No concrete offers were made to her.
Sandra went on working the reduced hours during the entire two-year ordeal, but she made it clear to her employer that she was working under protest. Some of her colleagues left because they couldn't cope with the pressure. "I didn't want to give up my job like others did because it wasn't fair, "she explains.
Sandra advises others "to persevere" because unionised workers can change things for all workers. "If you see something that is not right in your workplace, don't be afraid and do something about it. The union will support you; it will never abandon you. My victory should give hope to all of us workers, because many said there's nothing we can do about these types of things, but I said, 'no, let's fight!' UVW was there for me and I won."  
Following the judgment, Bayleaf offered Sandra her missing four weekly hours back at a different store also in Covent Garden but in her usual morning slot.
Maya Thomas-Davis, Sandra's legal caseworker from UVW, is calling on other workers in similar situations to take heart from Sandra's legal victory and get organised. "Bosses are always doing what Bayleaf did in this case: imposing worse contractual terms and conditions on workers and then arguing that the fact workers continue working must mean that they agreed to the changes. We will not let them get away with this. If bosses had absolute power to unilaterally reduce contractual hours in the way Bayleaf tried to, then all contracts might as well be zero-hours. Sandra's victory in this case shows why knowing your rights and organising with your colleagues in your workplace and with your union is so important –– you can stand strong like Sandra did, insist on your full contractual entitlements, make it clear that you are working under protest, and fight to win back what is yours!"
Sandra's case took two years of struggle and a further two months of nervous wait for the 18-page judgement! She showed determination and resilience and the tribunal vindicated her resolve.
"We have rights and we should fight for them", she says. "Just as we have a duty towards our jobs, we also have our rights and we shouldn't allow employers to trample over them. Don't be afraid because the union has our back."