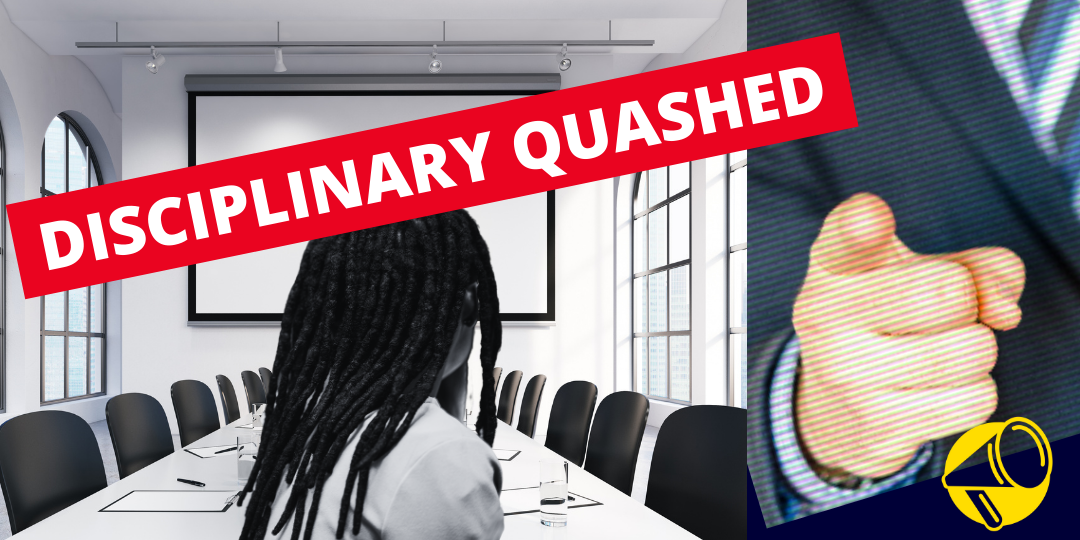 "A transformative experience": Disciplinary against exemplary outsourced Chanel cleaner quashed 
"This has been a transformative experience. I now feel very powerful… I feel different. I see my bosses just like anyone else."

Hiywot Feyssa Bedaso, outsourced migrant cleaner and UVW member
Ethiopian-born Hiywot Feyssa Bedaso came to the UK seven years ago and for the last six had happily worked as a full-time outsourced janitor for cleaning contractor Bayleaf Facilities Management Ltd (Bayleaf), at one of the sites of the Chanel luxury fashion retailer in central London. She's been a member of United Voices of the World (UVW) for many years. "I love my job. I'm very happy there, and get on well with everybody. I had never had a problem before, quite the opposite, I'd been repeatedly congratulated for the quality of my work."
A few months ago she was accused of insubordination and breaking the rules of engagement with the client, Chanel.
"Bayleaf screamed blue murder because I responded to a request for an explanation regarding a task with a picture of the site. It was an internal matter!, they said. I had violated confidentiality rules as internal data belongs exclusively to Bayleaf not to our client, Chanel. I should have solved the problem with my Bayleaf supervisor alone and not responded to Chanel at all."
Hiywot was then summoned to a disciplinary meeting and afterwards to a formal disciplinary hearing. "I thought to myself they can't accuse me of something that I haven't done."
So she got in touch with UVW. "UVW gave me confidence and great advice. I learnt something very important from this case that having proof is key to defending yourself. So now I keep all my communications with the company in an archive. I always respond in writing, because one has no idea when you're going to need proof of things," she explains.
UVW succeeded in ensuring that no disciplinary action was taken and the disciplinary was quashed. This means that there's no record or any sanction on Hiywot's file. "They even apologised to me," she adds. She wasn't dismissed which is always a possibility when there is a disciplinary hearing. "I've always believed in the power of belonging to a trade union. 100 percent. Because you do need the community especially when you get into trouble."
Companies can be challenged and beaten through effective representation, like in Hiywot's case, but this is not a silver bullet – there are limitations. "Sometimes, if a worker has been in the wrong, then obviously there's little that a union would be able to do for you" Hiywot reflects. "But workers must be clear that it starts with us. We must know whether we have a case that can be fought or not, and I did. Unions can't do miracles and we shouldn't judge a union badly because of our own shortcomings. I had absolutely no doubt that I needed to be part of a union."
Things have now changed at work and Hiywot feels she is now treated with renewed respect. "This has been a transformative experience. I now feel very powerful. I feel different. I see my bosses now just like anyone else. I tell everyone who works as a cleaner to join a union because you don't know when you are going to need support. Look, I could have lost my job because of a tiny insignificant problem. One of my colleagues, who wasn't unionised, did lose his job and they had absolutely no proof of any wrongdoing on his part but they sent him the letter and he was out."
After almost 10 years of organising and collective action, UVW members know through lived experience that the issues they face can be resolved through collective action first and foremost. They also know some companies will try and get away with very flimsy, sometimes even fabricated allegations, and unfair proceedings because it's easier to control people through disciplinary action and sanctions.
"I'd tell the bosses that they should listen to their employees. They should learn from our experiences too," says Hiywot. It is very common for cleaners to receive allegations of insubordination, which doesn't have to be more than just asking for clarification of an order, instruction or request. In the cleaning sector in particular, unrealistic clients' demands and expectations, understaffing, under-resourcing in terms of materials provision, training, staff numbers or work clothes often take a strain on personal relationships and failure to follow a managerial instruction leads immediately to a disciplinary process.
If you want to learn more about how to fight for your rights, why not join our reps network? Get to meet other members and learn about Labour Law for free.
Register your interest here> https://forms.gle/tLpHyaKFtDe3oXrq7