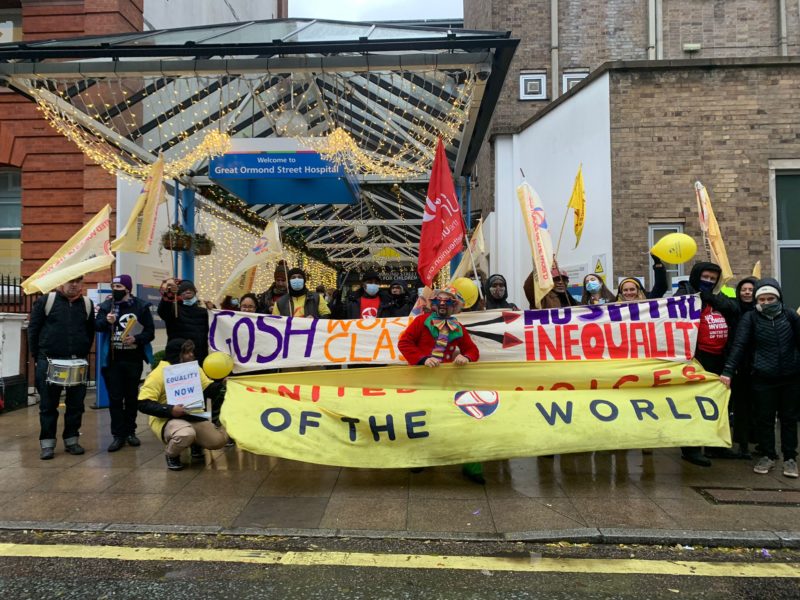 08.12.2021 / News / Covid-19 / GOSH
GOSH security guards begin strike and rally for equality!
"Why can't they recognise us. Someone up there is making silly decisions making sure that security guards are not taken in-house. It's so sad,. it's a mockery. It's like they are telling us you guys can go to hell, we don't care about you."

Larry Ude, security guard, Great Ormond Street Hospital.
Security guards and UVW members at Great Ormond Street Hospital (GOSH) gathered for a protest rally yesterday as part of a three-day strike to demand the same basic working conditions as NHS hospital workers. Dozens of supporters, including patients and other hospital staff, joined the vibrant picket line, where there were balloons, music and leaflets and even a dancing clown.
The security guards at GOSH, who have worked through the pandemic keeping staff and patients safe, are currently outsourced. They work for a third party company, Carlisle Support Services, on worse terms & conditions than other NHS workers. If they get sick or injured they don't get paid, and they can't get the same parental leave to care for their own ill child as their colleagues. They have been left with no option but to strike because for months GOSH bosses have refused to talk to them or UVW, their union.
Alain Fieulaine, one of the security guards who has worked at GOSH for 14 years, explained the unfairness of the situation: "During Covid-19 we were doing Covid patient transfers and when the government gave the NHS a 3% (rise) agreement, we were denied the 3% because they said we are not part of it. Can you imagine? I put my life at risk, the lives of my family members at risk and when the government gave a 3% – that is 33 pence – we were denied the 33p, which is not fair."
Alain and his colleagues are asking for the same basic working rights as other hospital staff who they work with day in day out. This includes sick and injury pay, annual leave entitlement, full overtime and unsociable hour pay and employer pension contributions.
Larry Ude who has worked at GOSH for two and a half years said it beggars belief that the hospital had agreed to take in-house 300 cleaners last December but were unable to do the same for 30 security guards who have been "left behind." "Why can't they recognise us? Someone up there is making silly decisions making sure that security guards are not taken in-house.It's so sad. It's a mockery. It's like they are telling us you guys can go to hell, we don't care about you."
Hospital staff and patients, the children receiving treatment there and their families, also joined the picket line to show their solidarity, despite management having insinuated they'd be upset about it. "The first lie is that patients and your colleagues in the NHS will not support you if you go on strike. It's a lie. It's wrong. We absolutely stand with you, The entire NHS stands with you!", medical doctor John Withington told strikers.
One hospital porter said he attended the rally because he "believed that security guards should have the same rights that I have in the NHS. They are a great bunch of people doing their best to provide us with security."
Aisling Murray, a former patient at GOSH, sent a message of support shared by many other concerned patients: "The security guards are in the right and the bosses are in the wrong! You are not just fighting for yourselves by striking, but are fighting for all future workers and patients, and making sure that GOSH really is the world class hospital that we all love. Just remember that patients are on your side and don't let them convince you otherwise."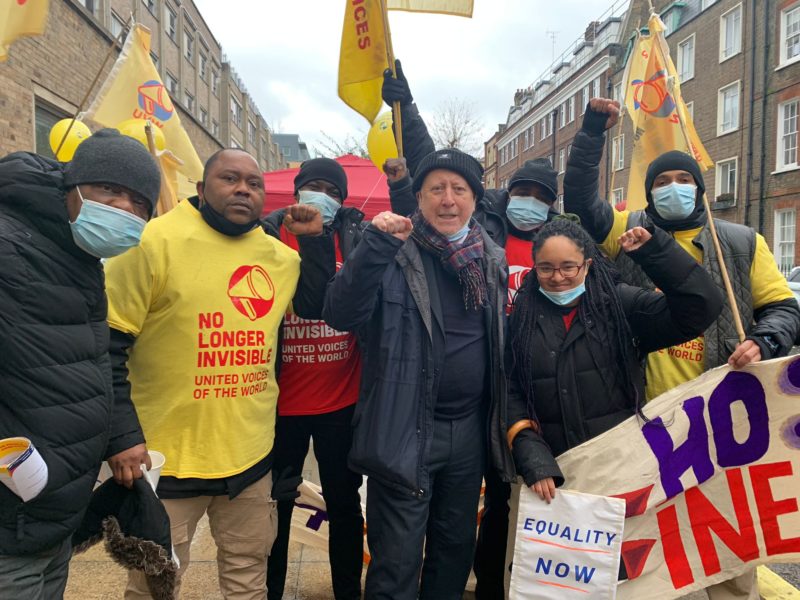 Labour MP Andy McDonald was also there to support a cause which puts in stark relief ":the scourge of outsourcing and privatization", a business model that dehumanizes workers who have risked their lives during the pandemic and who to this day, receive no sick pay. "So when you are sick and you have to sustain and do what you are told and keep all of us safe by going home and getting well, you should be having the same employment rights other people enjoy."
Guardian columnist and activist Owen Jones also turned up at the picket line, pointing out that giving Black and Brown workers less rights than their white counterparts amounts to structural racism. "This is an issue of racism, of systemic racism, that overwhelmingly Black, Brown and migrant workers don't have basic rights, basic security and a decent, basic living standard. It's disgraceful."
Pressure on the trustees at Great Ormond Street has been coming from within the NHS too. Medics and healthcare workers around the country signed open letters addressed to the Board of Trustees at GOSH supporting the security guards' campaign, and calling for an end to the practice of outsourcing and two-tier employment hierarchies.
In a separate letter addressed to Great Ormond Street management, Nurses United said: "None of us could do our roles without the support of the security guards who help to keep us safe and are an integral part of our team. For GOSH's security guards to be treated as second class citizens when they are mainly black and brown migrants is in breach of the equality that GOSH and nurses are supposed to stand for."
Requests for full parity with the rest of the hospital staff were met with silence.
Instead of sitting down to talk, the hospital issued quite an astonishing warning to the dozen or so guards planning to go to the picket line suggesting they would use violence at the protest and that it could lead to arrests and prosecution. This blatant attempt to intimidate the strikers was compounded by the racist undertones of the letter sent to a majority Black, Brown and migrant workforce.
The security guards are following in the footsteps of the mighty cleaners who won NHS parity in October 2021. Inspired by that success and comforted by the dozens of expressions of support and solidarity the security guards will not give up the fight!
You can donate to their campaign here >>.