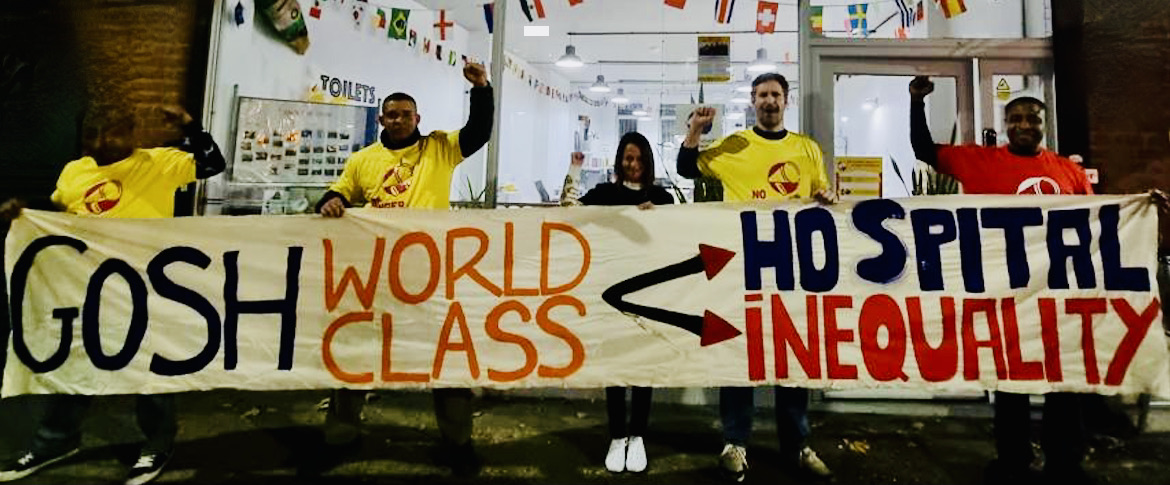 Outsourced security guards at Great Ormond Street Hospital gear up to take strike action
"We are planning to go on a six-week strike in February and we call on all of you to join hands with us. People need dignified jobs, dignified pay, dignified conditions at work. Please come and join us so that we can make this fight against outsourcing a success."

Samuel Awittor, GOSH security guard and UVW member
Security guards at London's Great Ormond Street Hospital (GOSH), and members of UVW, will walk out for six weeks in their ongoing fight for equality with other National Health Service (NHS) workers on 2 February 2022.   
The predominantly Black, brown and migrant guards work for a third party company, Carlisle Support Services (Carlisle), on poorer terms & conditions than their largely white NHS colleagues who are employed in-house. Carlisle is owned by billionaire and Conservative Party donor Lord Ashcroft and the company generated revenues of £65m and profit of £6m in 2019.
The planned six-week strike is set to be one of the longest security guard walkouts in NHS history. But the guards say they have had no option after months' long failed attempts to talk to Carlisle and GOSH.
Samuel Awittor, security guard for GOSH and UVW member, believes this is everybody's fight: "We are going on a six-week strike in February and we call on all of you to join hands with us. People need dignified jobs, dignified pay, dignified conditions at work. Please come and join us so that we can make this fight against outsourcing a success."
For Mimy Longangu, GOSH security guard and UVW member, the way they were treated during the pandemic was the last straw: "I decided it was time to go on strike because I am bitterly disappointed. When the pandemic started, we all put our lives at risk, cleaners, security, all of us, especially with the new patient escort task, because we had to get close to the Covid patients, So we were expecting to be rewarded, but we were not… I feel left behind. We are key workers but we are not really part of them. They clapped for us, they added so many tasks to our jobs that we were not supposed to do… How come we all put our lives at risk but a small group of us are ignored? It's not fair, and it has to change now."
In parallel with the strike, the security guards are considering taking the hospital to an Employment Tribunal in a group indirect race discrimination claim. As security guard and UVW member Erica Rasheed, puts it: "We feel that it is very unfair, very unjust and it could constitute racial discrimination, because most of us are from Asian and Black backgrounds."
At the time of writing an online petition of support had already gathered over 41-thousand signatures. Add your name!
The guards are calling on your solidarity to win!
Join us next week on the picket line:
Thursday 3 February, 12.00 pm
Strike rally with speakers outside Great Ormond Street Hospital, Great Ormond Street, London WC1N 3JH GOSH.
Friday 4 February, from 10.00 am
Picket line outside Great Ormond Street Hospital, Great Ormond Street, London WC1N 3JH
Head to the campaign page to sign the online petition, donate to the strike fund, join the action group and write a letter to the GOSH trustees >>.
Join the fight for equality!