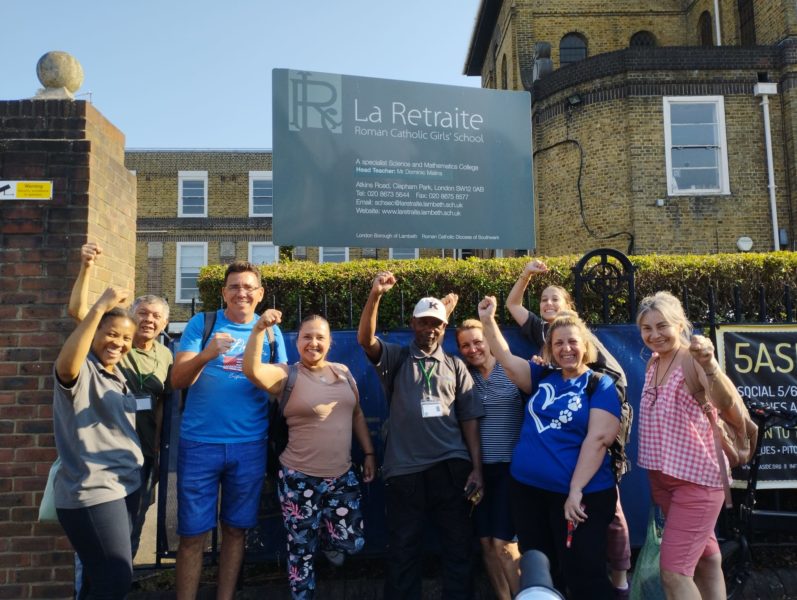 22.06.2023 / Press releases / La Retraite
UVW cleaner members at state school La Retraite to strike in coordination with NEU teachers in early July
Outsourced cleaners at south London school will take strike action on the 5 and 7 July alongside National Education Union (NEU) striking teachers 
The low-paid and migrant cleaners had called off their planned June strike action after employers said counter proposals to disputed changes to working conditions would be produced imminently
Consultations with the employer have now broken down, with three UVW members suspended and one dismissed
The La Retraite cleaners are the eighth and latest group of UVW low-paid migrant workers to join the wave of strikes across the public and private sectors this summer.
Seven other groups of UVW cleaners, carers and concierge workers held simultaneous and coordinated strike action across Greater London on the 13, 15 and 20 June. 
The outsourced cleaners at La Retraite Roman Catholic Girls' School in south London will return to the picket line for the second time in three years. The action has been called following the school's insistence at changing the cleaners' working hours which will result in many of them facing the sack as they already have other jobs for the proposed new time. Many have worked at the school for several years.
Cleaning contractor SSL agreed to come up with an alternative proposal which the school leadership vetoed despite initially agreeing to it. La Retraite management walked out of the last consultation meeting within minutes, refusing to consult further.
Negotiations have broken down and the cleaners will join forces with striking NEU teacher members on the 5 and 7 July. One of the UVW cleaners has been dismissed without being allowed to work their notice and three others suspended for, we believe, their active role in trade union activities in their workplace.
Roberto Hernandez Diaz, cleaner at the La Retraite Roman Catholic Girls School and UVW member: "After many years working in that school in the schedule from 2.00pm to 5.30pm now the school wants to change our work schedule from 5.00pm to 7. Most of us cleaners would be forced to stop working at the school because many of us have other jobs we need to get to, which we need to pay our rent and food. So, it would be very difficult for us to make ends meet if the changes go ahead. Many of the cleaners have been working at the school for several years and I hope they show a little empathy and consideration for us, cleaners."
Montserrat Gallego, cleaner at the La Retraite Roman Catholic Girls School and UVW member: "I see the change of schedule as unfair because other jobs we have would be greatly affected for the simple reason that we have already adapted the work and our schedules to make it all manageable for us and our families. Most of us have minor children and a change like this would be disastrous for us. We have been at the school for years and we've adapted our lives and multiple jobs to make our children's lives as comfortable as possible."  
Petros Elia, UVW general secretary, said: "Our members' good will to put strike action on hold as negotiations progressed was met with cynical moves by both the cleaning contractor and the school leadership which appeared aimed at derailing strike action rather than resolving the dispute. The school management has shown its true colours and now our members will show their true indignation through strike action. There is no good reason to change the working hours of the cleaners particularly when it comes at the cost of their jobs and our members are more determined than ever to fight back and do so together with striking teachers.  And the decision by the cleaning contractor – which we can't confirm wasn't taken in conjunction with the School – to dismiss one of our members and suspend three others on flimsy trumped up charges, is an outrageous act of union busting that we will respond to robustly."
For further information, including photo and interview opportunities, please contact the UVW comms team.
Isabel: 07706 987443
Cristina: 07548 759340
E-mail: comms@uvwunion.org.uk
Notes for editors
United Voices of the World is an anti-racist, member-led, direct action, campaigning trade union and we exist to support and empower the most vulnerable groups of precarious, low-paid and predominantly BAME and migrant workers in the UK. We fight the bosses through direct action on the streets and through the courts and demand that all members receive at least the London Living Wage, full pay, sick pay, dignity, equality and respect.
UVW's migrant, precarious and low-paid members keep both public and private sectors running. Hospitals, universities, restaurants, warehouses, nursing homes – to name just a few – would grind to a standstill without UVW members working hard to keep them clean, safe and operating round the clock. But despite making up 18 percent of the employed population and contributing to the economy, migrant workers are more likely to work shifts, particularly night shifts, split shifts and weekends, to be in non-permanent jobs and to be in jobs for which they are overqualified, while on minimum pay and dismal conditions.
Other workplaces involved in the dispute include billion-pound global giants Amazon and publishing powerhouse Ogilvy, the prestigious London School of Economics and the private Streatham and Clapham High School in South London, the Department of Education, Sage Nursing home and West End Quays luxury flats.