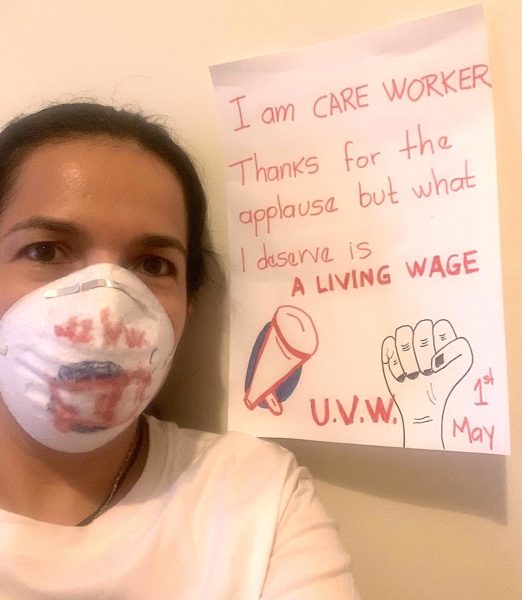 14.10.2021 / Worker's Story / SAGE
Action conquers fear!
"La acción vence al miedo" – action conquers fear – has become a mantra for one Latin American care worker, said with conviction, delivered with a smile.
Bella is one of the thousands of migrant women who work in care homes across the city. Care work is notoriously low paid with 90% of workers in London paid below the living wage and over 41% on zero-hour precarious contracts, according to the Living Wage Foundation and a study by the Health Foundation.
When she started to experience abuse and harassment at work, she decided to take action.
In 2019 Bella got in touch with Latin American Women's Rights Service (LAWRS) a feminist organisation run by Latin American migrant women living in the UK and United Voices of the World (UVW), a grassroots trade union of low paid, migrant & precarious workers.
She recalls her first visit to UVW offices, alive with Spanish, English and Spanglish chatter, children's toys, banner-making workshops, workers sharing their lunch and a battered sofa where those coming off a night shift took turns to rest as they waited to see a caseworker.
Bella was instantly encouraged by the atmosphere and swiftly became a member. In the months that followed, she began to learn about her workplace rights and armed with this new found knowledge, she underwent a gradual transformation.
In 2020, Bella brought a case against her employer for victimising her and breaching her rights. She went on to file a complaint against a colleague for harassment. For that, she was subjected to a union busting witch-hunt.
"They started sending me letters, calling me into meetings and saying I was putting the lives of the residents at risk. The environment was hostile," she recounts. "I started to suffer from severe headaches, hair loss, anxiety and cried a lot. I was on medical leave several times. I couldn't cope with the pressure, so I decided to resign".
Bella was confronted by a culture of intimidation: "Bosses tend to do everything in their power to prevent workers from coming together and exercising their collective power to ask for fair wages and working conditions," she says.
Scared but emboldened, she refused to back down and continued to challenge her bosses on poverty pay and unfair treatment -–and this time she was not alone. Supported by her family and her union, she also began to foster momentum and credibility among her work mates.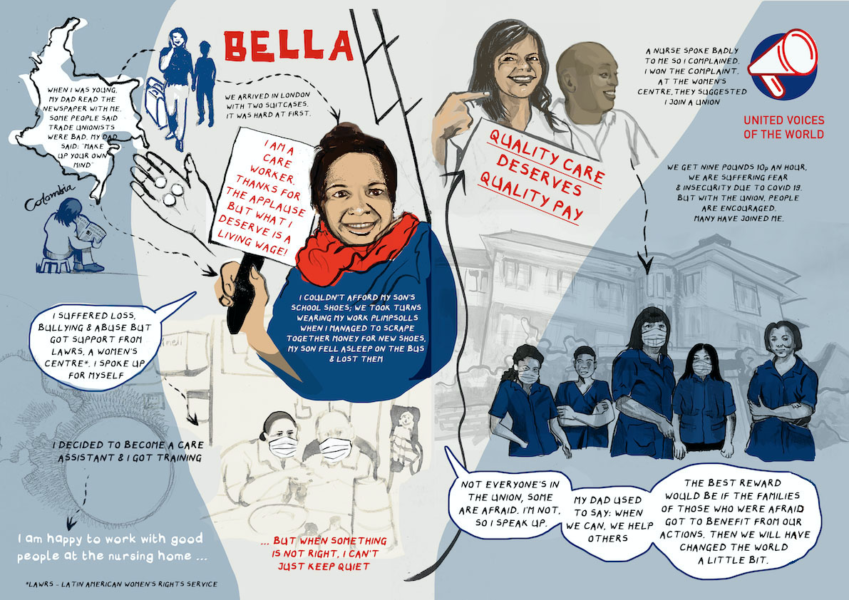 In just under two months Bella helped to unionise over 30 workers, she led a petition for trade union recognition, hosted numerous union meetings and represented her colleagues at speaking events. Soon after, fourteen of her colleagues brought a legal challenge against their employer and UVW successfully balloted for strike action under the campaign slogan "Quality care, deserves quality pay".
More intimidation followed. The employer tried to cajole the workers into not pursuing action – but they continued undeterred. "I worked through Covid. I didn't go into isolation. I worked night and day. What do I get?! A 'thank you for your hard work", said one worker at the time, speaking on condition of anonymity for fear of recrimination. "This doesn't pay for bread. I don't feel I am worth anything, just an object. It's time to make a stand!".
But that fear was assuaged as the workers continued to organise. The workers launched a high-profile campaign supported by the local community; 75,000 people signed an e-petition; messages of solidarity flooded in from all over the world. The campaign yielded early-day motions in Parliament and plenty of news coverage to follow, as major news outlets became increasingly interested in a story that pitted David against Goliath.
In January & February 2021, Bella's colleagues took legal strike action. They are yet to win, but Bella's participation has become a source of inspiration for other UVW women – especially, for the younger members and for many women scared to raise their voices, share their experiences and take action.
For many of these women, being heard, supported, and validated can be a catalyst for change. They say the experience of fighting for their workplace rights has empowered them and that there is no turning back.
"I am proud that I have not remained silent and have raised my voice for dignity." says Bella. "We all deserve to have healthy workspaces and bosses who respect the rights of their employees"
Click here to support Bella's colleagues in their fight for dignity >>