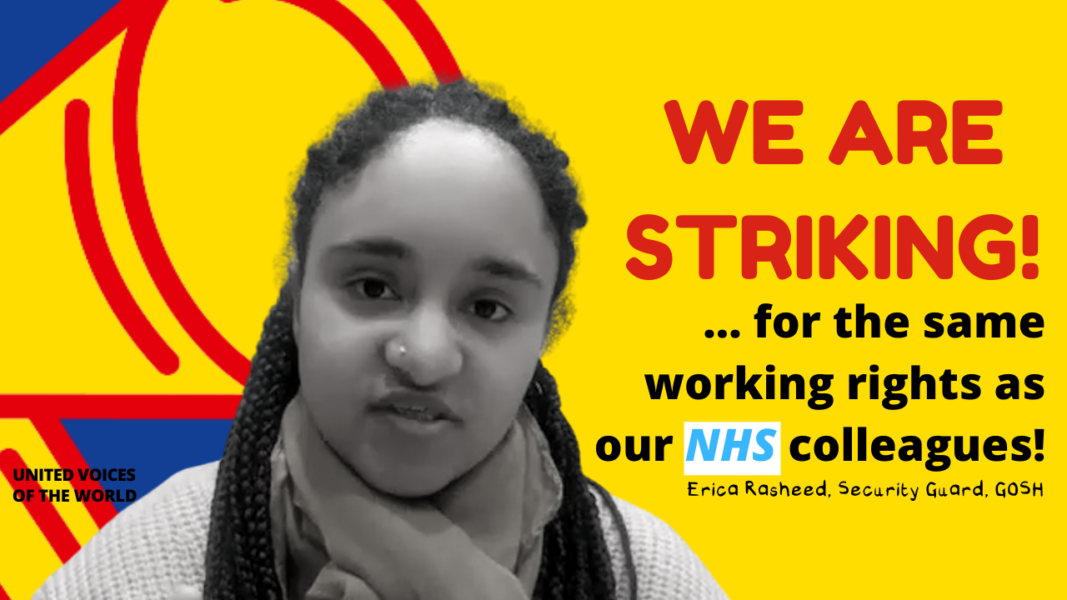 Security guards at Great Ormond Street Hospital to strike for six weeks in January
"It is hard to believe, but I do not get sick pay. What this means is if I go to work I put myself and others in danger. If I stay at home – I don't make rent. I do believe in the NHS, I really do. But what kind of institution treats their workers like that?" Erica Rasheed, security guard and UVW member,
Security guards at London's Great Ormond Street Hospital (GOSH), and members of UVW, will walk out for six weeks in their ongoing fight for equality with other National Health Service (NHS) workers on 18 January 2022.
The GOSH security guards work for a third party company, Carlisle Support Services, on worse terms & conditions than other NHS workers. The outsourced, predominantly Black, brown and migrant security guards are asking for the same terms and conditions as the hospital's predominantly white in-house staff. This includes basic rights such as sick, parental and maternity leave, enhanced payments for unsociable and overtime hours and employer's pension contributions. In parallel with the strike, the security guards are taking the hospital to an Employment Tribunal in a group indirect race discrimination claim.
Erica Rasheed, security guard and UVW member, explained: "We feel that it is very unfair, very unjust and it could constitute racial discrimination, because most of us are from Asian and Black backgrounds."
They are the only workers at the hospital being denied full sick pay during the ongoing global coronavirus pandemic, when they have worked relentlessly to keep staff and patients safe, sometimes going above and beyond their duties to help overwhelmed medical staff to move patients in and around the hospital. In doing so, they put themselves and their families at more risk of contracting the deadly disease, but rather than being rewarded for their efforts as other NHS staff, they have been ignored.
Samuel Awittor, another security guard at GOSH stated: "Nothing breaks the spirit of a determined people. Regardless of our number, nothing will break our spirit."
Six weeks is a long time to be on strike – it would mean one of the longest security guard walkouts in the history of the NHS. But the guards say they have had no option after months' long failed attempts to talk to Carlisle and GOSH and that they are more determined than ever to keep fighting.
Samuel Awittor, security guard for GOSH and UVW member, said: "Nothing breaks the spirit of a determined people. Regardless of our number, nothing will break our spirit."
The January action comes after a three-day strike which took place in early December after which the strikers were subjected to vindictive union-busting tactics from bosses such as cancelling their shifts without explanation and vile racist slurs from their supporters. Samuel and his colleagues say they are increasingly concerned that there is more to come.
"You can see what was being done," he said. "Before the picket line, the manager picked up the phone and kept calling members of staff and asking them: 'Are you coming to work?' And that meant that if you said you were not coming to work, extra shifts given to you were going to be taken away. And that's exactly what they did," Samuel added.
Samuel and UVW contend that by failing to speak out when third-party contractors engage in racial discrimination and victimisation, Great Ormond Street management are complicit in this behaviour. "We know how serious racial hatred, racial comments and racial targeting is. So if GOSH also believes in that principle, it should at least issue a statement in that regard because failing to do so amounts to emboldening the people who are abusing us online," said Samuel.
The security guards need our support to continue their fight for dignity, equality and respect through direct action on the streets and through the courts. Please show your solidarity.
Donate to the strike fund here >>